Rome is the capital of Italy, in the Lazio region. It has 2.8 million people living in its metropolitan area. It was founded in 753 B.C. Although it has been sacked many times over the centuries, the city has maintained an astonishing amount of classical beauty.
Today Rome is a popular destination, with numerous cultural heritages including several UNESCO World Heritage Sites. Rome has many historical sights, classic architecture, and culture to offer its visitors, but most people come to see the Pope in St. Peter's Basilica at the Vatican or the Colosseum where gladiators fought.
Here's a list of the 25 best things to do in Rome.
Best Things to Do in Rome 1-10
1. The Colosseum
The Colosseum was constructed to hold 50,000 spectators during its heyday in the 1st century A.D. This freestanding amphitheater is situated right in the center of Rome. Nowadays it's one of the most fascinating and essential landmarks that you should visit in Rome. It was used as a tombstone quarry during the Middle Ages and today is one of the most iconic attractions in all of Italy.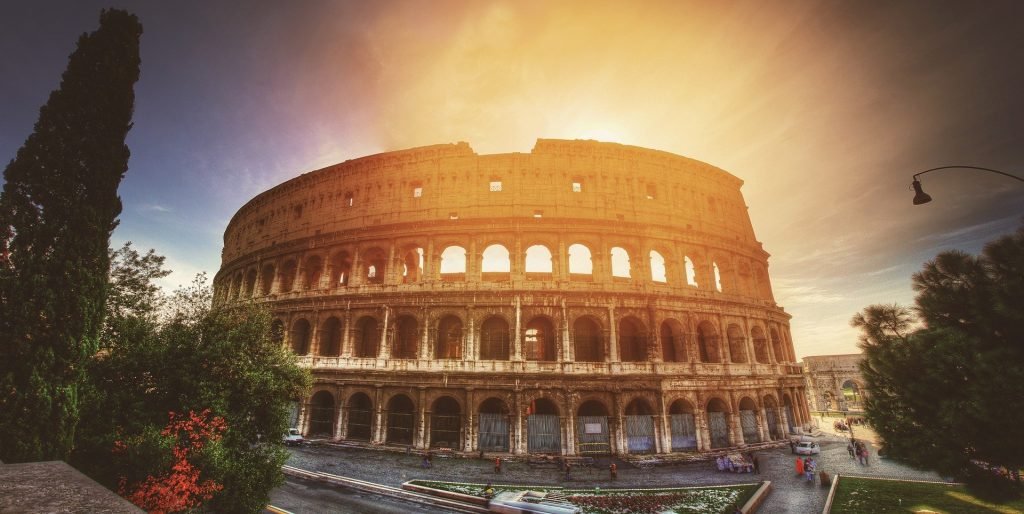 Your journey to the hidden passageways inside this mammoth complex will be unforgettable. Make sure you check out these 4 extremely fascinating and fun facts about this incredible structure:
It's the largest amphitheater ever constructed anywhere in the world. This incredible feat of ancient engineering, which is considered a modern Wonder of the World, took only 10 years to build.   
There were 80 entrances and 4 of those remain today. The others were sealed up during medieval times to protect them from thieves and invaders. Scaling the stairs you'll reach the terraces where tickets once sold.   
Back in the day, even King James II of Scotland visited it in 1471. He was returning from Rome after unsuccessfully pleading for his release from imprisonment or death, but instead had to sign a statement saying he would return the next year; he was probably too scared and fled back home.   
The word Colosseum actually comes from the Latin term "colosseus," which means colossal, huge. We all know it means gigantic nowadays, but back in Roman times, it meant something even bigger. They built the Colosseum on what was formerly an artificial lake – drained by Roman Emperor Claudius I to create a vast arena.   
Make sure you visit its Museum with lots of cool artifacts and epigraphic testimonies on Roman-era animal spectacles as well as some impressive carvings from the Colosseum's interior.   
For an excellent insight into the history of this fascinating place, pick up "The Colosseum – The Story of a Roman Icon" by David Gilman Romuli and Matteo Ceriana; it's filled with wonderful illustrations and cool facts which you'll love to know about.   
2. The Palatine Hill
Palatine Hill is the centermost of the Seven Hills of Rome. It is also known colloquially as  'The Ancient Hill '. This hill's most ancient part was settled in the era when Rome was originally a monarchy, way before it became an empire. The Ancient Romans used the Palatine Hill as a defense from military invasion from the outside, and in modern times, this hill is an attraction for many archaeologists to go to due to its history.
The Palatine Hill is the location where Rome was originally founded by Romulus in 753 BCE according to Roman mythology. Some important places located on Palatine Hill are The Forum, The House of Augustus, and The House of Livia.
The Forum is very close to Palatine Hill. It is a rectangular plaza that has been used as a marketplace and civic center for many years. This part of town was where people would go if they wanted public attention or to make speeches in front of large groups of people. One of the most well-known parts of the forum is The Arch of Titus, which was built in 81 CE to commemorate Roman victories against Israel. This arch features depictions on it that show Roman soldiers carrying items taken from the Jewish temple after capturing Jerusalem in 70 CE.
3. The Roman Forum
The Roman Forum is an ancient building and a historical monument situated in the city of Rome, Italy. This place was known as the public market as it had been built for this purpose several centuries ago. Also, this place was used as a meeting place for people to discuss issues politically. The structure comprises many temples and also some nice squares, shops, and buildings that are built in the style of ancient Roman architecture.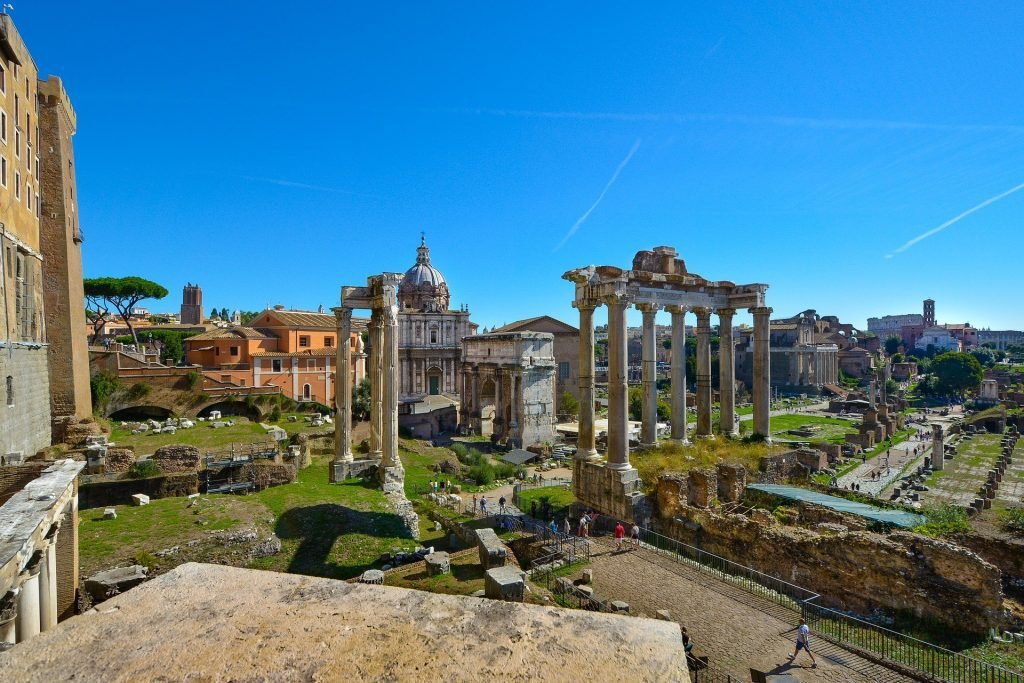 The Roman Forum was an open space during the time of Ancient Rome; however, it is now located at the center of Rome. It was built in this place to serve as a market for the people living in Rome. There were also many civic offices and law courts, as well as a number of temples and statues. However, all these things were built in the past only. For example, almost all the buildings have been destroyed during several wars and invasions throughout history. Therefore nowadays only ruins remain to remind us of the great ancient Roman architecture. In addition, today many historians come to this place from all over the world with the purpose of studying ancient Roman history.
Today, most of the building structures have been destroyed by wars and invasions in the past. However, there are still some historical buildings, including a nice square called Piazza del Foro which is between the V-VI century AD. In addition, one can see the Arch of Titus and the Arch of Septimius Severus. One can also see a number of temples that are built in honor of various Roman gods such as Jupiter, Juno, Venus, and Minerva.
4. Piazza Venezia
Piazza Venezia is a central and well-known square in Rome. Piazza Venezia is located between Pincio (modern name) and Quirinal Hill, close to other famous sites such as Colosseum, the Pantheon, and Trevi Fountain.
In ancient times it was known as the Foro Veneziano (Veneto Forum) or Circus Agonalis; it was the site of public games held for the celebration of spectacles such as gladiator battles, horse races, and chariot races.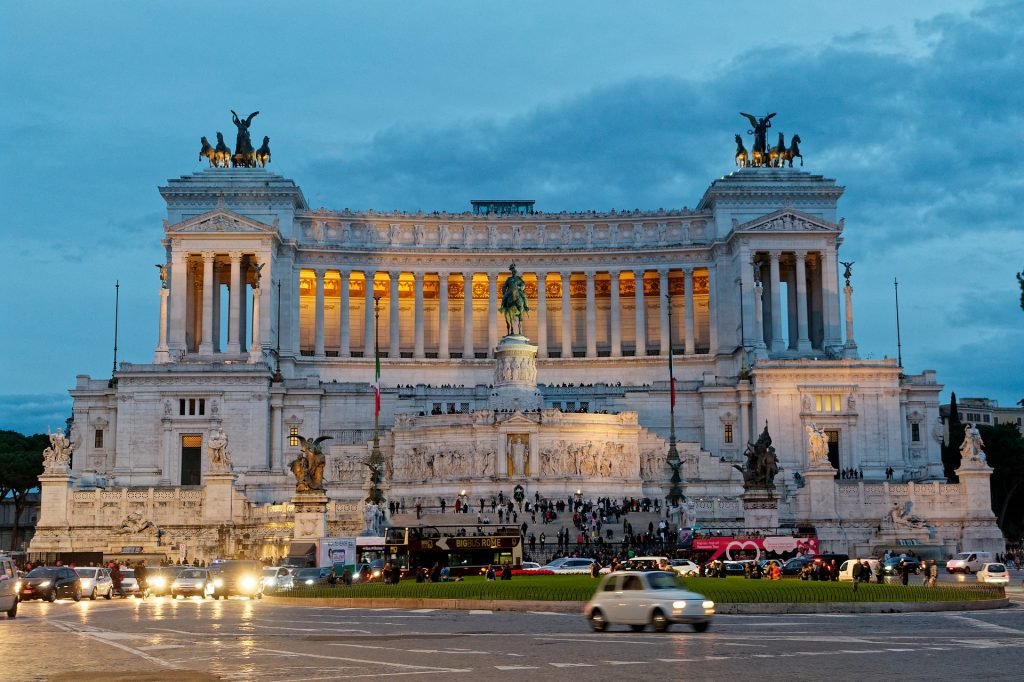 The square contains a well-known monument, Altare Della Patria (Altar of the Fatherland), designed in 1911 by Italian architect Giuseppe Sacconi in a neo-Cinquecento style.
The name of the square comes from Sixtus V, who had a victory column built at the southern end of Piazza Colonna to commemorate the victory over an Ottoman fleet on 8 October 1571, which is located outside Basilica di Santa Maria Maggiore. In 1800 the Piazza was renamed to honor the Cisalpine Republic, whose capital city was also called "Città del Veneziano" (City of the Venetian). The Quirinal Hill served as a residence for popes until 1870 when Rome became the capital of Italy and hence ended its role as a suburb of the city.
Foro Italico is the main site of the Italia Marathon, an annual event that attracts thousands of runners.
Today's Piazza Venezia is easily recognizable from the classic engraving by Piranesi by its roughly triangular shape, formed by three straight streets converging at the Victor Emmanuel II Monument: Via del Corso, which crosses it from side to side, Via IV Novembre and Via di San Marco.
The majority of the building façades have been rebuilt in a style combining Mussolini's popular classical motifs with modern design trends. Other landmarks nearby include Palazzo Venezia, which was the former headquarters of Benito Mussolini.
Piazza Venezia is a hub for public transportation in Rome. The historic Trams have been replaced with newer green buses and new green articulated buses – all making local stops within the square's perimeter. The square has also been connected to the rest of the city with the construction of a metro line from Termini to Piazza Venezia.
It is also served by three Rome Metro stations; Piazza Venezia, Vittoriano, and Spagna.
5. Piazza del Campidoglio (Capitol Square)
Piazza del Campidoglio (Capitol Square) is a beautiful square in Rome, Italy. Located across Capitoline Hill, it is also very close to other famous sites such as Piazza Venezia and around the corner from Via del Corso. The piazza was designed by Michelangelo Buonarroti in 1538 (with some help from Tasso). It has an oval shape with three concentric semicircles. The Palazzo Senatorio is located in the center of Piazza del Campidoglio. Its name derives from 'Senatus', or Senate since it used to be home to an aristocratic governing body, now replaced by the modern-day Italian Senate. This building was designed by Michelangelo, too.
The square has a very rich history that dates back to ancient times. The square used to be home to the Temple of Jupiter Capitolinus, the most important temple in Ancient Rome. This is why it was also known as "Capitolium". As well, many government buildings were located here because they became one of the prime locations for the Roman government.
Many important events have taken place in this square since its construction, but one of the most notable was the Treaty of Campo Formio, which ended the war between Austria and France in 1797. The treaty made many changes to Europe at the time. As well, it is said that "Il Duce" Benito Mussolini had a balcony built in this square during World War II so he could give speeches to the people of Rome.
Today, the square still holds many important buildings and features that have withstood centuries of change. The main attraction is Michelangelo's "Palazzo Senatorio", which has been home to Rome's administration for centuries. The Senate continues to work here today, but the building now also houses Rome's City Council.
Piazza del Campidoglio has always been crowded since it is one of the most important squares in Rome and therefore popular with both locals and tourists alike. Although there are many cafés around, don't expect it to be quiet.
There are many other interesting buildings around the square, including Michelangelo's "Palazzo dei Conservatori" and his "Cordonata", a stairway leading to Piazza del Campidoglio. There is also an equestrian monument of Marcus Aurelius, one of Rome's best-known emperors.
Piazza del Campidoglio is also very close to other monumental sites of Rome, such as the Trevi Fountain and the Spanish Steps (Scalinata della Trinità dei Monti). This makes it easy to see everything in one day if you're willing to walk a lot. There are many bus lines that run through the area or you can take a taxi.
Piazza del Campidoglio is a very important and historical landmark, so it's definitely worth a visit if you're in Rome. It's one of the most popular tourist attractions not only because of its monuments and architecture but also because it offers wonderful views over Piazza Venezia and the rest of Rome.
6. The Pantheon
The Pantheon is a building in Rome, Italy, commissioned by Marcus Agrippa as a temple to all the Roman deities during the reign of Augustus. The first Pantheon was built between 27 B.C. and 14 A.D., but it burned down in 80 A.D. The current one was reconstructed by Emperor Hadrian around 118-128 A.D.
During the 1,400 years that it was under construction, many different emperors and architects worked on it. The Pantheon finally became a Christian church in 609 A.D. The Pantheon is one of the best-preserved architectural structures from antiquity and is in very good condition considering its age. It has been in continuous use throughout its history. The interior is exactly as it was when the Pantheon was dedicated almost 2,000 years ago.
There are no visible supports and one can stand under the oculus and look up to the heavens without any danger of the dome collapsing. It is a relatively light construction made with brick and concrete that is surprisingly strong.
The outer wall is made of two stories of marble that were replaced in the 19th century after the originals eroded badly. Many other Roman buildings constructed at about the same time are still standing, but not all considerations were made to ensure their strength and stability. The Pantheon was designed by architects who knew what they were doing.
The dome is 142 feet (43 m) high and 142 feet (43 m) in diameter. The cupola weighs about 2,000 tons and is not supported by exterior pillars or internal arches. It covers the rotunda drum that has a perimeter of 149 feet (45m). At its highest point, it is 43 ft (13 m) from the floor.
The rotunda was designed with niches to house statues of the various deities that were worshiped in Rome at the time, but some had been vandalized or filled in. The 16th-century artist Raphael created some new ones on commission by Pope Julius II. Although Raphael's work is not part of the original building, it was added to the structure because of his position as Pope's favorite.
The interior has a coffered dome for the first time in history and is an early example of perfect symmetry in design. This perfection came at a cost to some architects who have criticized Raphael's work as being "too perfect" for its surroundings.
Pantheon is an example of ancient architecture at its best. The building has survived earthquakes, invasions, the plundering of its materials for other construction projects, and vandalism which has all but destroyed many other buildings around it. Its near-perfect state of preservation makes it one of the most treasured pieces of architecture in Rome.
The Pantheon is the only ancient Roman building that is still a place of worship. It became a Christian church in 609 AD and remains so even today after almost 2,000 years of standing proudly against time.
7. Piazza Navona
Piazza Navona is situated in the heart of Rome, Italy. The piazza is well known for its fountains and buildings from baroque architecture. In this section, you will find information about how to reach the Piazza Navona as well as a list of things to do there.
How To Reach Piazza Navona  Rome
By Car: If you are planning a trip to Piazza Navona by car then it is good to know that there are parking lots surrounding the area. Some of them may require a fee; please check with your hotel if it is included in the price.
If you prefer to walk: Piazza Navona is just a couple of minutes away from Via del Corso 10 minutes away from Via Dei Giubbonari and 20 minutes away from Campo de Fiori.
By Public Transport: Piazza Navona is a 15-minute walk from the metro station 'Barberini'. Travelling by bus you can get off at Largo di Torre Argentina and get to the center of Rome in around 5 minutes by foot. And finally, if you wish to get there by water bus then you will arrive at the river port close to Piazza di S. Marco and can take a 5-minute walk towards the center.
Things To Do In Piazza Navona  Rome
Piazza Navona is probably one of the most beautiful places in Rome. The piazza hosts three impressive baroque fountains which are definitely a must-see. On the northern side of the piazza is the Fontana del Moro, built-in 1654 by Giacomo Della Porta. The fountain was designed as a representation of a bear fighting against a Moor. In another corner, you will find the Fontana del Nettuno, realized between 1692 and 1694 by Giacomo Della Porta and Bernini. The fountain is a tribute to the mythological god Neptune and represents him with his three sons on top of a giant shell.
Finally, you can't miss the Fontana dei Quattro Fiumi (Fountain of the Four Rivers) which was designed by Bernini between 1651 and 1653. The obelisk in the center of the fountain is a reference to the Nile river and was donated to Rome by Egypt as a sign of friendship. On one side you can find two porticos, built at the end of the 17th century; they both have statues on top which depict the rivers of Danube and Ganges.
The other two sides of the piazza host two buildings: Palazzo Pamphilj and Palazzo Altemps. Both were built in the 15th century; the first one was designed by Bramante for Giovanni Pamphili, a nephew of Pope Innocent X Della Rovere, while the second was designed by Carlo Maderno for Cardinal Girolamo Farnese.
The Piazza Navona is full of shops and restaurants where you can enjoy your lunch or dinner.
8. Trevi Fountain
Trevi Fountain is a popular site in Rome. It is one of the most well-known fountains in all of Italy because it is home to many legends and stories that have been passed down from generation to generation. The Trevi Fountain was built between 1732 and 1762 by two different architects, Nicolo Salvi and his pupil Pietro Bracci. The fountain was built to commemorate King Charles III of Naples and Sicily, who provided a new source of water for the city so it would be able to host the 1771 celebrations in honor of his daughter that was held in Rome.
The Trevi Fountain is made from many different stones such as travertine, white marble, and others. It is located in the Santa Maria della Pace square between Via del Corso, a major thoroughfare going through Rome, and Piazza di Spagna. The fountain itself measures 69 feet wide and over 22 feet tall. There are four statues that were sculpted by Nicola Salvi at the top of the fountain representing Triton on top of a conch shell, Neptune on top of a seahorse, Oceanus, the personification of the ocean, and one representing Agrippa who was responsible for bringing water to ancient Rome.
9. Piazza di Spagna
Piazza di Spagna is one of the most famous tourist attractions in Rome. It is on top of the Spanish steps which are on a hill leading to Trinità dei Monti Church at the top. This makes it an excellent point from which to admire the city of Rome, for its size and beauty, which can be appreciated very well.
The piazza is named after the Spanish embassy to the Holy See which is located in Palazzo di Spagna at the top of the steps.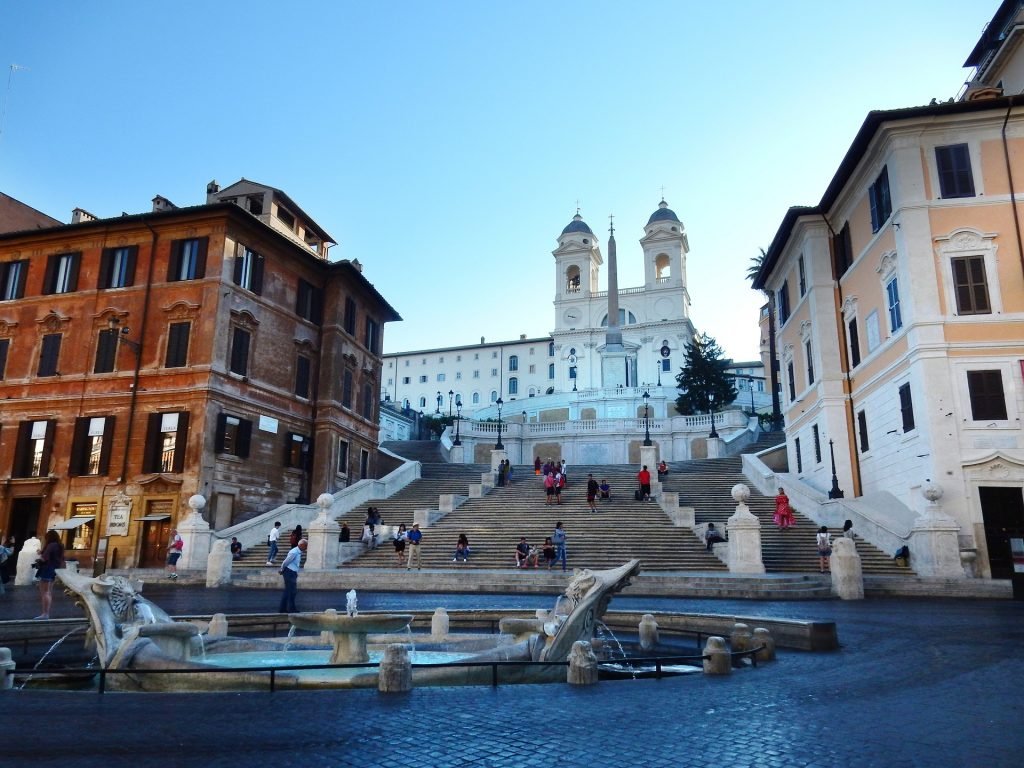 The piazza itself was created by Gian Lorenzo Bernini in 1657 and it is centered around an Egyptian obelisk, a Roman copy of a much older one from Egypt. The twin churches rising above the piazza, Trinità dei Monti and S. Maria dei Miracoli, are also by Bernini.
Visitors should be aware that Piazza di Spagna is an open-air urban square in Rome where you can get yourself into something of a pickle – literally! At the foot of the steps, to the right, as you walk from Trinità dei Monti, lies a charming little hole-in-the-wall restaurant called 'Rosati'. Most visitors know it as a place for lunch or afternoon tea. But what they don't realize is that this tiny cafe also offers one of Rome's most refreshing and delicious cocktails: the 'Spritz'.
Of course, this must be accompanied by a plate of their delicious deep-fried vegetables (zucchini flowers and such) and some wonderful homemade potato chips. All washed down with an ice-cold Spritz.
10. Villa Borghese Gardens
Piazza di Spagna is a wonderful and peaceful green oasis in the center of Rome. Entry is free and entrance is open from dawn to dusk, depending on the season.
There are two entrances, Porta Pinciana (at Via Veneto) or Porta Fontanella Borghese. Make sure to bring cash/credit card with you, since there is no ATM machine on site. Credit cards are accepted in most cafés and restaurants though.
Villa Borghese is located in the center of Rome, right next to Piazza del Popolo and Via Veneto in the middle of a big green park created by Napoleon for his horseback soldiers to practice. Before you enter the park from either of its two entrances, there is an obelisk in between them which was brought from Heliopolis in ancient Egypt by Augustus.
As a stunning backdrop for all these wonderful pieces of art is a large courtyard with sculptures on display which are works by great masters such as Michelangelo, Bernini, and Canova.
The first part of Villa Borghese is home to a park with wide paths, fountains, and centuries-old trees. There are many sculptures displayed along the way which were originally owned by the Borghese family or purchased for this garden. The second part of Villa Borghese is more wild and natural and includes a lake (Laghetto Della Concezione).
How to reach:
Take the metro to Flaminio (Flaminio – Piazza del Popolo) or Spagna [Spanish Steps] (Spagna [Spanische Treppe]) where you can easily walk over to Villa Borghese.
You can also walk from Piazza del Popolo or Via Veneto, but it is a pretty long way.
Villa Borghese is easily accessible with public transport and there are plenty of parking options nearby as well. You can park right next to Villa Borghese at Piazzale Flaminio for example, but there is a fee. There are many parking garages in the vicinity though!
Things to do in and around Villa Borghese:
– Relax and enjoy this beautiful green park, or rent a bike or rollerblades if you want to get around faster. The paths are wide enough for everyone to get around.
– If you feel like a little shopping, Via Veneto is not far away and has plenty of designer boutiques! Or check out the shops at Piazza del Popolo if you want to spoil yourself a little bit more.
– Visit one of the many art galleries along Corso Vittorio Emanuele II which are filled with amazing art pieces.
– Walk over to one of the many classical Rome buildings, such as Palazzo Doria Pamphilj or Palazzo Chigi where you can find art galleries and luxury shops inside their walls!
– Visit the Basilica di Santa Maria del Popolo which is located at Piazza del Popolo.
– Enjoy a romantic boat ride on the lake with your partner.
Best Things to Do in Rome 11-20
11. The Vatican
The Vatican is a walled enclave within the city of Rome. The Vatican City State has an area of 44 hectares (110 acres) and a population of about 1,000 people. The independent city-state displays the temporal power of the Pope as ruler and head of the Roman Catholic church.
The name is taken from the Latin "vaticinium" – foretelling, prophesying. The Vatican state in Italy was founded in 1929 by the Lateran Treaty to ensure the temporal power of the Popes, who were previously subject to the authority of the Kingdom of Italy.  Vatican City has its own flag, post office, and even coins – however, it doesn't have an official border control station or a population registry, and there are only about 1000 inhabitants living in this country.
You can reach Vatican City by train, bus, or car.
Train: The closest train station is Ottaviano-S. Pietro. You can take the "Leonardo Express" to Termini Station in Rome and then switch to Metro Line A for three stops to Cipro -Musei Vaticani.
Car:  Enter the Vatican City from Rome using Via della Conciliazione. The closest car parks are P1 at St. Peter's Square and P4 at Borgo Santo Spirito 146 (nearest to Ponte Vittorio Emanuele II).
When you arrive at St. Peter's, a guard may ask for your passport and after checking it you can enter Vatican City. Getting into the Vatican is free, but you must purchase a ticket to visit St Peter's Basilica and The Sistine Chapel.
The Vatican museums are open from 9 am – 6 pm every day, except Fridays when it is closed in the morning and opens at 2 pm.   Every Wednesday from 8 am-10 pm there is a general audience with the Pope in St Peter's Square which you can attend if you have purchased a ticket for that day. The Pope will be on the right side of the stands. If you are planning to go for this, make sure you queue up as early as possible- queues can be long and security is very tight!
Some other tips:
The best time to see St Peter's Basilica is first thing in the morning or after lunch- the crowds are much less then. The queues are long at the beginning of the day.
The Sistine Chapel is kept very dark but be sure not to use your camera flash!
The Vatican is a very busy place, crowded with tourists and locals alike- wear comfortable shoes!
If you are planning to visit the Vatican Museums or St Peter's Basilica on a Sunday, be aware that there is a dress code for this day: long trousers or skirts for women, no shorts for men.
The Orange Groves & The Keyhole
The Orange Groves & The Keyhole are a set of interesting locations in Rome. The Keyhole is situated at the topmost point of Saint Peter's Basilica, while the Orange Groves are on an outdoor terrace adjacent to it.
The two sites can be visited on tours scheduled by the Vatican Museum
Keyhole – The Vatican Obelisk and the Dome of Saint Peter's Basilica from a Keyhole at the topmost point.
Orange Groves – The Orange Groves are the rooftop above the Piazza di Pietra (Piazza of Stone), an outdoor site situated adjacent to Saint Peter's Basilica, near the corner of Via Della Conciliazione and Via Delle Mascherone.
Nearby Things To Do: The Vatican Museums are centrally located near many different tourist attractions in Rome including the Trevi Fountain, the Pantheon, Castel Sant' Angelo, Piazza Navona, Spanish Steps, Trastevere, and Campo de Fiori.
12. The Mouth Of Truth
The Mouth of Truth is a marble mask covering a large drain opening in the ground, which was used as a method for disposing of bodies during Roman times. It has been claimed that it was part of a tomb, but there is no evidence to support this. The legend says that if you put your hand into your mouth and tell a lie, it will bite your hand off.
There are two statues of lions on each side. The masks are now covered with lead to protect them from air pollution, which has obliterated some details.
The Mouth of Truth is located at via dei Fori Imperiali in the ancient Roman district known as the Forum Boarium.
13. St. Peter's Square
St. Peter's Square is one of the biggest squares in the world, surrounded by beautiful buildings and important spots.
It is possible to reach St Peter's Square walking because it is located very near to Vatican City. It has an area of about 130,000 square meters. You can get there either by bus or metro or by foot. If you are visiting Rome on foot, it is recommended you first stop at St. Peter's Basilica to check the opening hours and the admission fee. Then you can visit St Peter's Square on your way to or from the Vatican Museums.
The visitor has several options that are available for him during his planned visit to St. Peter's Square. First of all, he will have the chance to visit St Peter's Basilica, which is one of the main attractions in Rome. Moreover, there are some sculptures around the square that are also worth seeing. But obviously, you should not miss out on admiring Bernini's Colonnade with its 284 Roman-style columns which surround the square. Another important detail that you should not forget to see is Michelangelo's Pietà, located in St. Peter's Basilica. Moreover, there are some buildings close to the Square that are interesting too: Palazzo di Giustizia (Palace of Justice) and Palazzo Della Cancelleria (Palace of the Chancellery).
St Peter's Basilica is the most important church in Rome. It is huge, huge enough to fit St Peter's Square itself inside it! It was built between 1506 and 1626 on an earlier basilica that was destroyed by fire in 1308. The dome was designed by Michelangelo. There are many museums inside the basilica where you can marvel at beautiful statues and amazing sculptures, but the most interesting ones are located in St Peter's tomb. You should not miss visiting them because they are stunning!
The façade of St Peter's Basilica was designed by Carlo Maderno and built between 1607 and 1614. It is characterized by its two orders divided by pilasters and crowned with a big central oculus. The façade has three doors: the bronze door was designed by Gian Lorenzo Bernini in 1642, while the other two were realized in 1857 at the expense of Pius IX.
The Colonnade of St. Peter's Square is a work by the architect Gianlorenzo Bernini. It was built between 1656 and 1667, at the behest of Pope Alexander VII, to connect St. Peter's Basilica with the Palace of the Vatican (now known as the Apostolic Palace ). They are 137 meters long and they have 284 ancient, massive columns.
The Pietà is one of the most moving works by Michelangelo Buonarroti. This sculpture decorating St. Peter's Basilica was made between 1499 and 1402 after the artist's return to Rome from Florence. The statue is now located within St Peter's tomb.
Palazzo di Giustizia was designed by Cesare Bazzani in 1932, and the present-day building is a later remodeling of it carried out by Adalberto Libera. It is located near St Peter's Square. In front of this building, there is a huge statue depicting Blessed Pope Paul VI, who is considered a saint by the Catholic Church.
Palazzo Della Cancelleria was designed by Jacopo Sansovino in 1532, and now houses one of Rome's civil law courts as well as the offices of the Vatican's Prefecture for Economic Affairs. The building can be reached walking down the Borgo Santo Spirito.
14. St. Peter's Basilica
St. Peter's Basilica is a catholic church located in Rome. It was built on the place of Saint Peter's tomb, which is considered one of the apostles of Jesus Christ by Roman Catholics and it is, therefore, a major pilgrimage site for Roman Catholics.
The Basilica covers 12 hectares and is thus larger than St. Paul's Cathedral in London. Construction lasted from 1506 to 1626 and was built by famous architects such as Bramante, Michelangelo, Maderno, and Bernini.
The building has four floors with a total of 12 chapels. The dome stands 136 meters high, is 42 meters in diameter, and can be entered via 300 stairs on the inside.
The main piece of the church is the mausoleum; it has a bronze gate and behind it, there's also an inner court with two mosaics that show scenes from the life of Saint Peter. In this area, one can find columns made from red granite from Aswan in Egypt, they have been transported all the way to Rome and were erected in front of the Basilica during the time it was built. Furthermore, there is a statue of Saint Peter made from white marble by Bernini which depicts him as a strong man with an outstretched hand. The basilica also houses paintings by famous painters such as Caravaggio, Raphael, and Titian.
A special feature of the Basilica is that it has had 39 popes up to now, who have been buried in either the Grotte Vaticane or under the Altar of Saint Petronilla. Also, famous people such as several kings and queens of France are resting at St. Peter's Basilica.
Additionally, the basilica is home to a cross with Baroque decorations and golden letters which were presented by the Greek Orthodox Patriarch of Jerusalem and given as a gift to Pope Paul IV in 1964. The cross can be considered one of the most important relics of the church
Furthermore, there is a large baldachin, which was originally set up by King Louis XIV of France. The baldachin has the same height as the basilica and consists of four columns that support a canopy adorned with gold flowers.
15. Ponte Sant'Angelo and Castel Sant'Angelo
Rome's motto is "Fluctuat nec mergitur" (it floats but does not sink). In other words, Rome was built on water and has been flooded many times in its history. When you visit the Italian capital you may notice that people do not mind this at all. The city is built with a wide range of arches, tunnels, and other means to negate the danger. There are even electric bicycles that come with a built-in water jetpack, so they can ride through flooded streets without sinking.
Rome's first center is on the left bank of the Tiber River. The Tiber was elevated by one of Rome's seven hills – the Quirinal. For this reason, the river island was created. The bridge in front connects two large urban areas: Rome and Castel Sant'Angelo.
Castel Sant'Angelo is also called Hadrians Mausoleum or Castle Montecitorio. This building has an interesting history; it was initially built to serve as an imperial tomb for Emperor Hadrian. Afterward, it became a fortress, and today it serves as the home of the government of the Italian Republic.
The large building has a cylindrical shape with a diameter of 51 meters and a height of 44 meters. Inside there are three floors, one of which is underground. The structure has a hollow base, which you can see through the glass floor if you go inside.
The bridge in front connects to the opposite bank of the Tiber at Ponte Sant'Angelo. A small tower stands on this corner. You can climb up these stairs and get an amazing view of Rome. The bridge is made of 5 arches with a length of about 20 meters. You can walk on it by crossing the wooden planks that are laid over the stones for support. However, most people prefer not to go outside because they are afraid of falling into the water. It's best to go inside one of the houses here and enjoy a delicious coffee while you look out over the city from this elevated position.
The windows along the bridge offer great views of Ponte Sant'Angelo, Castel Sant'Angelo, and Trastevere's old town. The latter is located on the opposite bank, but it is well worth a visit to walk its romantic streets and take in a unique atmosphere.
The Ponte Sant'Angelo is a pedestrian bridge, so you should not drive over it with your car. If you don't have a bike or electric scooter, it is best to use the other riverside bridges – for example, Ponte Sisto and Ponte Flaminio. Although they are located further south, they still give you a spectacular view of this bridge. A trip on the river in a water taxi is also a good idea.
The Ponte Sant'Angelo's base is crowned with beautiful statues. The four female figures symbolize the angels mentioned in the New Testament by Saint John. These sculptures were made by Bernini, who also designed the beautiful square.
As you can see, there are many ways to explore this bridge. An absolute must is to walk across it and enjoy the best views over Rome from the Ponte Sant'Angelo.
16. Trastevere District
Trastevere District is one of Rome's most famous districts. It is located on the west bank of the Tiber river, south of Vatican City. The district was mostly built in Medieval times, but it has some buildings from the Roman Empire era too.
Trastevere district is known for its cozy atmosphere and colorful streets with small shops and restaurants. The place became extremely famous for its nightlife, so now it is also known as the "Romantic district".
Trastevere district has great examples of medieval and renaissance architecture. The walking trail along the Tiber river offers a great view of the famous Castel Sant'Angelo and many other amazing attractions that are located closer to Vatican City. Trastevere district is definitely worth spending at least a couple of days exploring.
If you do not plan to visit the Trastevere district during your stay in Rome, then at least take a walk there just after sunset or before sunrise. It will be very romantic! Also, if you ever think about moving to Italy, then this is the place where you should live!
Trastevere district is also very famous for its food. Many restaurants in Trastevere offer both Italian and international cuisines, but you should definitely try traditional Roman cuisine that includes dishes made from fresh seasonal ingredients.
If you happen to be in Trastevere during a holiday or one of many city festivals, then you should definitely explore the streets and enjoy the atmosphere.
Trastevere district is located south of Vatican City, so it takes about 15-20 minutes to walk from most parts of Rome to Trastevere. But, if you want to use public transport, then go to the nearest bus/train stop called "Trastevere". Trastevere district has its own bus/train line (line number 8) that connects Trastevere directly with Termini station in downtown Rome.
Also, if you plan to visit Vatican Museums or St Peter's Basilica then you should walk through Piazza di Santa Maria in Trastevere after exiting the museum or church.
17. Campo di Fiori
Campo di Fiori is a beautiful piazza located in Rome, Italy. It is located right outside the walls of Vatican City and next to the historic Ponte Sisto bridge. There are many restaurants, pubs, shops, and stalls located on the Campo di Fiori where you can find gift items as well as handmade crafts that are created by the local artists. These are also the perfect place to relax and enjoy a fantastic meal with friends at one of the many outdoor restaurants located on the Piazza.
Campo di Fiori is always filled with people throughout the day and night because it's one of Rome's most popular destinations for shopping, eating, and just relaxing.
18. Piazza del Popolo
Piazza del Popolo is situated in the north of Rome, on a hill that overlooks Piazza del Popolo from the south. In the middle of Piazza del Popolo, there is a 19th-century twin gate, called "Porta del Popolo", which was created by Giuseppe Valadier.
Piazza del Popolo is surrounded by many interesting buildings such as Palazzo Altemps, Palazzo Doria Pamphilj, and Villa del Vascello. The church of Santa Maria del Popolo is situated on the north side of Piazza del Popolo. On the opposite side, there are several interesting buildings: Palazzo Borghese and Hotel Gerber (formerly Hotel Forum).
Piazza del Popolo is a popular place for tourists and locals to meet. It offers many opportunities: design shops, restaurants and bars, flower shop stalls, and art exhibitions in its surroundings.
It can be reached by bus, tram, and underground (subway).
19. San Lorenzo District
San Lorenzo district is located in the city of Rome. It has a population of around 21,000 people and spans about 15 square miles (38 sq km). San Lorenzo consists of 5 neighborhoods; Colli Albani, Fonte Meravigliosa, Giuliano Dalmata, Marconi, and Pigneto. San Lorenzo is a historic district that has developed around the area where four great Roman roads converge:
The Via Labicana
The Via Prenestina
The Via Tiburtina Valeria
The Via Casilina
Today, the streets of San Lorenzo are still arranged in a grid, which makes it easy for visitors to get around and explore the neighborhood. The main thoroughfare in San Lorenzo is via Tiburtina, a busy street lined with shops, bars, and cafes. There are several historic churches within the district including:
The Basilica of Saint Anastasia
Santa Croce in Gerusalemme
San Tommaso da Villanova
Santa Maria Della Vita
Santa Lucia al Gonfalone.
The crypt of Saint Lawrence can be found underneath the church of Saint Lorenzo Fuori le Mura (St Lawrence outside the walls). The remains of St Bibiana, one of Rome's legendary vestal virgins, are inside the church of Santa Bibiana (Saint Bibiana).
Other Places of Interest in the San Lorenzo District
One of Rome's main markets, Castroni, is based in San Lorenzo. It sells fresh fruit and vegetables as well as wines, oils, cheese, and other imported Italian foods. Castroni is located at via Tiburtina 1271b (metro stop: Piazzale Appio)
The district also has two famous cinemas, the UCI Cinemas at Piazza Della Repubblica and the Cinema Roma in via Collatina.
There are several key attractions within San Lorenzo that can be seen in a few hours. The National Museum of Oriental Art, or Museo Nazionale d'Arte Orientale is on the Merulana. The National Roman Museum of Archeology has artifacts set out in chronological order via Ostiense 30.
The Basilica of Saint Lawrence outside the walls is a key attraction too. Built-in 313AD to house the saint's remains it was rebuilt in the 1920s. This church is a large circular structure with an impressive dome and plenty of mosaic decoration.
The Basilica of Saint Paul, home to the saint's relics, can be found via San Paolo alla Regola. In addition, there are two lesser-known churches called Santa Maria Degli Angeli e dei Martiri and Santa Maria Della Vittoria, both of which are located within a few minutes' walk from Termini station.
San Lorenzo district is also home to the beautiful Villa Lante building which was built in 1569 by Giorgio Vasari for Gian Lorenzo Bernini. The villa has frescoed rooms and a manicured garden. It is located via Della Lungara and can be visited by appointment only.
At the top of the district, near the Basilica of Saint Lawrence, there is Castel Sant'Angelo which was built in 135AD as a mausoleum for Emperor Hadrian and redesigned by Pope Nicholas V in 1447. The castle now houses the Museum of the Imperial Fora.
In 1873 Pope Pius IX ordered that an astronomical observatory be built on top of the hill. It was moved from Rome to Castelgandolfo in 1935 but reopened in San Lorenzo after WWII ended. In 1970 it was given its current name, the Specola Vaticana.
The neighborhood has undergone significant gentrification in recent years, with many pubs and restaurants opening for business. The area is known as a student quarter because it has several university faculties, but there are also other professionals living here. San Lorenzo continues to be an important transportation hub and commercial center as well as a multicultural neighborhood.
20. Aventine Hill
Aventine Hill (Italian: Aventino) is one of the Seven Hills (l'Aventin) on which Rome was founded. It belongs to Ripa, the twelfth rione (district), and is numbered as IV in that district. The hill has a good view of the ruins of Ancient Rome. Next to it, there is a big park, named "Parco degli Acquedotti" (i.e., Park of the Aqueducts).
In Roman times there was a temple on this hill that honored the goddess Diana and another one to Apollo, from which some fragments have been found during excavations. In medieval times Aventine Hill was a favorite place for the rich Romans who liked to build their luxurious houses here.
Nowadays many expensive apartments and holiday houses are built on this hill, but there is also a big neighborhood of gypsies, without access to electricity and hygienic toilets. Most of the people here do not have the proper documents to work legally.
Aventine Hill is also known for its annual party on new year's eve called "Notte Bianca" (white night). During this party, the kiosks are allowed to stay open all night long and people dance at disco parties in the big piazzas of Rome.
Best Things to Do in Rome 21 and beyond
21. Catacombs of Rome
The city of Rome sits on top of seven hills, and beneath it are the Roman catacombs. Today, there are six open sites for public viewing, though many more once existed. The catacombs were used for burial purposes by both early Christians and pagans; they were required to be placed outside city limits because of the pagan belief that dead bodies carried disease. The catacombs were extensive, stretching for many miles, though much of what remains is just tunnels with brick walls. It is believed that the constant movement of the earth during construction projects in Rome has left very little of what used to be there.
There are a number of other churches and museums in Rome that house artifacts from the catacombs. These include the Catacombs of St Callixtus, which have been turned into a museum by architect Antonio Nibby. A new museum was opened in late 1999 to house the newly discovered catacombs of Santa Domitilla. These have been used as a location for movies such as The Passion of the Christ and Angels and Demons, due to their extensive tunnels.
22. Teatro Marcello
Teatro Marcello is a theater in Rome, Italy. The building currently occupying the site was designed by architect Giuseppe Valadier and completed in 1730. It sits adjacent to the Villa Farnesina on what has been an island of the Tiber River between two branches of that river over the centuries.
Teatro Marcello is constructed with seven semicircular marble exedrae on two levels facing the River Tiber. It is reportedly built on the remains of an ancient Roman temple, possibly of Hercules Curinus. The name Marcello was chosen in honor of Marcus Marcellus, Augustus's nephew. Valadier linked the two structures with a bridge that spans either of the island's two branches.
The plan of Teatro Marcello is a classic example of Renaissance symmetry, with its double order of nine arches and nine windows on either side. It has inspired many other structures around Italy; notably Palazzo Koch, one of the four buildings which enclose the monument to Victor Emmanuel II (the so-called " Quattro Fontane ", one of which adjoins the theater) and the entrance to Exhibition Road in London's South Kensington district.
23. Gelaterias in Rome
How can we talk about being in Italy and not eating the delicious gelatos?
Gelati (plural of gelato) are Italian ice creams, traditional and common all over Italy. The base ingredients are cream, milk, sugar, and flavorings. There is also an endless variety of flavors to choose from, ranging from strawberry to pistachio to hazelnut.
Italian ice cream is available in most cities, but Rome is the place to go if you are looking for this type of dessert. The city hosts hundreds of gelaterie, all serving up delicious flavors with a wide range of prices. It's easy to find one selling gelato at 2 euros per scoop or less, but for more expensive flavors like stracciatella (chocolate chip), crema (vanilla), or pistachio (pistachio) you can expect to pay closer to 5 euros per scoop.
The best way to find the best gelato in Rome is by word of mouth. Ask anyone where their favorite gelateria is and you are sure to find something good. The best thing about getting gelato in Rome, besides the incredible flavors, is that it's so cheap – so if you want more than one flavor don't be afraid to try out several places before deciding on one favorite!
One of the most popular Gelaterias in Rome is Giolitti. Many people say that Giolitti has the best gelato in Rome with flavors like coconut, strawberry, lemon, and blackberry. The gelateria is open until 12 am, which makes it perfect for an after-dinner treat!
Another popular Italian ice cream spot is San Crispino. It gets top reviews for both its gelato and sorbet flavors, so it's a great place to go if you are looking for something other than just plain old vanilla or chocolate. The prices are a bit more expensive at this gelateria, ranging from 2.5-4 euros for one scoop.
With so many delicious flavors to choose from you are sure to find the perfect ice cream for you! It's fun and cheap to wander around Rome looking at all of the different gelaterias, so go ahead – head out today and get your tasty treat!
24. Trattorias in Rome
If you happen to know everything about the Vatican museum, the Spanish Steps, and the Trevi Fountain (and much more) in Rome, it's time to start exploring Trastevere. The surrounding area around Piazza Santa Maria in Trastevere is home to some of Roma's finest trattorias, where delicious food is served at a reasonable price.
Here are some of the best trattorias in Trastevere, which you shouldn't miss out on when visiting Rome:
The Orso 80 is one of the most popular trattorie for Italian visitors and tourists alike, who flock here to taste their traditional Roman cuisine. The restaurant has been around since 1942 and has therefore earned its reputation. At a reasonable price, you get to enjoy the delicious food of the restaurant, which is a favorite among Italians as well. The service is informal and friendly, but don't expect much in terms of amenities at this place.
Another choice is Trattoria Monti, which has won several prizes for its delicious food, great service, and warm atmosphere. Here you will get to enjoy classic Roman dishes with a twist. Favorite dish: Homemade gnocchi pasta with fresh tomatoes sauce.
If you would like to try the regional food of Lazio, go to La Gensola. Here you will find a variety of traditional and delicious dishes that are sure to leave an impression. La Gensola is especially famous for its fish and seafood, so make sure not to leave without trying their grilled fish.
It's no wonder that people who have visited Trastevere keep coming back for more. Trastevere offers you a great experience with amazing food, cozy restaurants, and great people. Whatever your taste is, there's something for everyone to enjoy in Trastevere!
25. Shopping in Rome
Rome is one of the most famous shopping destinations in Europe. The first thing that comes to mind when thinking about shopping in Italy is probably luxury and high fashion. There is a reason why this stereotype exists: not only does Italy have some of the most glamorous, stylish, and expensive brands in the world, but Italian designers are also considered some of the best in the world.
This means that shopping is not only about enjoying shopping, but also about experiencing some of Italian history and culture through fashion at the same time. Although prices are high (and often even higher than they would be in other European countries), it's really worth splurging on luxury items at least once during your lifetime.
Luxury Shopping
When you are looking for luxury shops, Rome is definitely your best bet. Rue dei Condotti is well known as the place to go shopping in Rome, with brands like Bottega Veneta, Prada, and Bulgari being just a few examples. All of these stores have their flagship store located here. Because it's the poshest street in Rome, you will find that this is the most expensive shopping area in the city.
Affordable Shopping
If you are looking for more affordable brands, you can visit Via del Corso and Via Cola di Rienzo, which both have many shops with Italian designers like Borsalino, Diesel, or Missoni. These streets are also a great choice if you are looking for high-fashion brands with lower prices. Via Nazionale is another interesting street where you can find luxury brand shops, but it is also known as a place where you can shop at discount prices because of the many department stores and outlet stores located there. In addition to small boutiques, Via del Corso also has many well-known international stores.
If you are looking for more common brands like Zara, H&M, and Bershka, these streets offer the best option: Via del Corso and Viale Trastevere. If you prefer to shop in malls and department stores, there is no better place than Esquilino. It is a huge shopping area with all types of stores, from luxury brands to discount shops.
In addition to the above streets and areas, there are many other places where you can find good deals on clothes and other fashionable items, such as Via Nazionale, Piazza di Spagna, and Città del Lusso.
Tips for Shopping in Rome
When you are shopping in Rome, there are also other things to keep in mind. First of all, because many stores are located close to Spanish Steps. Piazza di Spagna is usually the most crowded place when it comes to shopping in Rome. It can get really annoying if you want to actually look for something instead of being packed in a busy street with hundreds of other people. To avoid this, you can visit the stores located in Via Dei Condotti or Piazza di Spagna during later hours in the afternoon when most tourists have already left.
In addition to crowded streets, be aware of pickpockets, who usually target large groups of people because they can be distracted by their cell phones or cameras. It is also recommended to not carry lots of money on you because if you are robbed, there's no way you can get it back.
When shopping in Rome, make sure to dress appropriately and cover your shoulders and knees when appropriate (even if it is super hot outside like during summer). Also, be aware that in some shops, such as luxury brands stores, you might need an appointment to visit the store.
Buying Souvenirs in Rome
In addition to shopping for clothes and other fashion items, you can also buy souvenirs in Rome. Even though there are many trinkets with Italian symbols like Colosseum or Trevi Fountain, what most people usually buy are Vatican-themed souvenirs. There are many shops where you can find all sorts of items with Vatican symbols, but there is no better place than Borgo Pio. It's the place where all the tour groups go to buy souvenirs after visiting St. Peter Basilica or before boarding their buses again.
Out of the list of the Best Things To Do in Rome, you can pick and choose which ones you want to cover depending on your preferences and how much time you have available on hand. We'd recommend doing all of them!
Rome is a historic center in the Western World, that has managed to preserve history in a great way. With so much to discover and learn, Rome must be on every traveler's list. Check out all these things to do on your next trip to Rome!
Read also:
---
Note: The hours of operation, ticket prices, and admission criteria of museums, parks, etc. may change from time to time. For the most updated information, we recommend checking the official website of the attraction directly prior to your planned visit.
Blog Categories: Asia, Africa, Europe, USA, Australia & New Zealand, France, Germany, India, Italy, Spain, Sports, Switzerland, Travel Tips, UK, Products, Uncategorized
Fresh From The Blog
---