Visiting Ladakh is a life-changing experience. Ladakh is located in the Indian state of Jammu and Kashmir and is only connected by road from India, through Srinigar in Kashmir, or through Leh City in Ladakh itself. The distance from Leh to Delhi is around five hundred kilometers and Leh to Manali is almost one thousand kilometers. However, with its amazing beauty and scenic views, Ladakh is well worth the visit!
First of all, Leh is the capital city of Ladakh and has got around thirty thousand inhabitants. Leh is a place to explore with its Buddhist monasteries and churches, high altitude villages, and the Buddhist city of Shey. There are many things to do such as photography hikes or longer treks such as the Markha Valley Trek which takes around ten days – although this might be strenuous for many people.
The landscape of Ladakh is like none other. One can expect to see vast high altitude regions filled with green hills and white mountains as well as dry deserts lying next to water-filled rivers. This all combined makes for an amazing combination of scenery.
Ladakh is a place where one can experience the Buddhist lifestyle and culture. There are monasteries almost every kilometer and for those who want to meet Buddhists living their daily lives, this is an interesting place to be. In addition, Ladakh has been visited by Dalai Lama himself on many occasions.
The culture in Leh is also different from what one might be used to and the people living in Ladakh are very warm and always ready to help visitors. There is a special significance given to food in Ladakh and many local restaurants serve authentic homemade cuisine.
July – August attract the most visitors as tourists come to hike in high-altitude regions like Stok Kangri (approx. 18,300 feet).
We have prepared a list of 49 things to do on your visit to Ladakh.
Best Things To Do in Ladakh 1-10
1. Hemis Monastery
The Hemis Monastery is located in the town of Hemis, which is about 30 kilometers away from Leh, the capital of Ladakh County.
Hemis Monastery in Ladakh is a Tibetan Buddhist monastery built in the 17th century. Hemis Monastery is home to three main temples, one of them is dedicated to Lord Buddha and it holds about 200 statues of Buddha.
Hemis Monastery also includes a 25-ft high thangka painting, which was made over 8 years and created by 40 artists from Tibet.
Hemis Monastery attracts thousands of pilgrims and tourists every year.
2. Hemis Festival
Hemis Festival in Ladakh is the single largest religious gathering of people, at least twice a year. One can expect to see up to 50,000 people attending this festival. The Hemis Festival marks the creation of Ladakhi culture and it showcases the region's Buddhist heritage.
The festival takes place in July or August (usually August) at the monastery of Hemis. On the 10th day of the six-week-long festival, there is a major procession that includes dancers, masks, animals, and warriors. During this period of time (August), thousands come to see the festivities that begin with "Mask Dances" on August 9 followed by dances like "Lachi", or Horse dance, "Chams", or war dance, "Ladarchi", or the celestial maiden dance. The Mask Dances are held at night, to see the masks lit by lamps is an amazing sight.
The festival also has a mask-making competition for schoolchildren between grades 1 and 10. The students learn about Buddhist history through their research on different types of masks and how they are made. The kids learn about the history, mythology, and lifestyle of Ladakh.
The Head Monk or a high priest or a high lama delivers a 40-minute sermon that is beamed to all the monasteries in Ladakh (which includes Buddhist monks). During the sermons, the Monks shake their heads in disapproval for any misdeed or crime that is committed. The sermons, also known as the "Serda" are conducted by a high Lama of Ladakh during the Hemis festival.
The event is organized by the Hemis National Park and the Central Tibetan Administration (CTA).
3. Hemis National Park
Hemis National Park is a national park in the Ladakh region of Jammu and Kashmir, India. It is situated approximately southwest of Leh town on the main Leh-Srinagar highway (NH 1D), 16 km (10 mi) east of Hemis village, along the Indus river valley at an altitude of 3,580 m (11,700 ft). The park is well known for the population of blue sheep that live in the area. Hemis National Park is a part of a transboundary Peace Park along with Trans-Karakoram Tract, comprising an area of 7,500 square kilometers (2,900 sq mi).
Hemis National Park was declared a Project Tiger tiger reserve in 1993. The Hemis National Park is one of the richest areas in Ladakh for high-altitude wildlife, which consists of mammals such as snow leopard, ibex, markhor, and blue sheep. Over 1,100 species of plants are found here including 24 species that are exclusively Himalayan. This park is home to over 200 types of birds that include many species of vultures and eagles.
The Indus River flows through this national park and it is one of the last remaining areas inhabited by blue sheep.
4. Hunder
Hunder in Ladakh is a semi-nomadic village in the eastern Himalayas. It is inhabited by about 400 people who migrate from one area to another depending on the season which provides them with different sources of food.
In winter they move to higher pastures where livestock can graze on grasslands and survive under harsh weather conditions, but in summer they move to the lower areas where crops are grown and harvested.
Hunder has a primary school with 35 students, but no healthcare facility or other public facilities. The residents of Hunder lead hard-working lives with most men leaving in the early morning with their herd of sheep and goats amidst high winds, rain, and snow. Women normally stay behind to take care of the kids, crops, and livestock.
Other hardships faced are irregular electricity, poor communication networks, and difficulties in accessing health services due to their remote location. This village remains unexplored by a majority of tourists and travelers.
5. Bactrian Camel Safari
The Bactrian Camel is an endangered species that used to be found in abundance in the high-altitude regions of Central Asia. However, they are now considered extinct in most parts of China and Mongolia.
Their numbers have dropped dramatically due to hunting, poaching, and illegal trading for use as riding animals or beasts of burden. Consequently, they can only be found in small numbers in northern China, the Gobi desert, and the Central Asian steppe.
The Bactrian Camel Safari was launched as an initiative to rescue this endangered species. It is a joint venture between the Tourism Department of Ladakh Autonomous Hill Development Council (LAHDC) and a few private-sector agencies.
This Camel Safari was launched in 2014 and is conducted across the vast plains of Ladakh where Bactrian Camels are still found in abundance.
It is conducted during the month of August when most tourists visit this area for sightseeing, hiking, and other outdoor activities due to good weather conditions. The best part about the Ladakh Camel Safari is that the majority of the revenue generated helps support local communities in this remote region.
The Merak-Sakthi Camel Safari starts from Spangmik village which is located on the bank of Indus River at a height of almost 3000 m above mean sea level, about 22 km away from Leh town.
The tour is planned in such a way that it is easy for the tourists to see most parts of Ladakh along with Bactrian camels. The journey begins from Spangmik village where spectators can take part in cattle races before setting out on an exhilarating ride.
It generally takes about 15 days for tourists to traverse a distance of about 400 km by horseback, camel, or 4×4 vehicle. This tour starts on August 1st and ends on August 15th every year. During this period tourists can visit Leh town as well as many other nearby areas which are famous for their monasteries such as Hemis monastery (built in 1672), Shey, Matho, Stok Palace, and Thiksey.
The highlight of this tour is a stop at a remote village called Hunder which is located about 200 m from the line of control between India and Pakistan. It is here where tourists can interact with local villagers and learn more about their unique culture and traditions as well as purchase local products such as various types of jewelry and handicrafts.
Tourists also get a chance to see the annual migration of Bactrian camels from higher altitude pastures in summer to lower areas near river banks where they graze on crops with their herders throughout the year.
Tours are conducted according to set guidelines which include carrying out necessary medical checks before the start of the journey. Tourists are also given proper training on how to handle Bactrian camels, which can weigh up to 650 kg and measure over 3 m in length.
At present, there are about 15-20 Bactrian camels being used for this safari which have been purchased from different areas of Ladakh.
Tourists can ride the camels as well as lead them along with a Tibetan nomad and learn more about their lifestyle and culture throughout the journey. They can also purchase accessories such as camel saddles and other necessities directly from the nomads.
6. Khardungla Pass 
Khardungla Pass connects the Kashmir Valley with the Nubra Valley in Ladakh region of Jammu & Kashmir state in India. It is situated on Srinagar-Leh Highway at a height of 5,359 metres (17,582 ft). It connects  Nubra Valley in Ladhakh with Dras valley in Baltistan (Kargil district).
The road to the pass was built in 1976. The pass was initially open only to mountain bicycles. In 1988, motor vehicles were permitted up to 16,000 ft (4,877 m) near Siachen Glacier. In 1998, The Indian government allowed further upwards until Khardung La pass at 5,359 m. No motor vehicle is allowed beyond this point.
The pass is not accessible throughout the year due to heavy snowfall. Only a few months are fit for travel, i.e., mid-May until mid-November. The height of this pass is 5359 m (17582 ft) above sea level. It was opened for use by motor vehicles in 1998 after an agreement between India and Pakistan, although it is generally used as a footpath from both sides of the border.
Stop by at Maggi Point in Khardungla Pass to enjoy some hot noodles in the highest cafe in the world.
7. Yak Safari
Yak Safari is a popular activity in Ladakh. It is an adventurous excursion to the mountains through high passes, narrow gorges, and along dizzy ridges. It takes you past quiet villages, Buddhist monasteries perched on hilltops, glacial lakes formed beneath majestic mountain peaks with canopies of snow. On this expedition one gets an opportunity to discover the gentle nature of the yak which is usually used for transportation in Ladakh. The yak doubles up as a reliable mountaineering companion on this expedition, and its sure-footedness proves invaluable in crossing mountain passes at high altitude.
The itinerary for this safari includes sightseeing in Leh, followed by 7 days camping out in the wilderness of Ladakh. You will be accompanied by a guide and a pack of yaks which carry all your camping gear, food, and equipment for the expedition. Overnight stops are made at campsites, near villages or monasteries.
One day is spent acclimatizing to the altitude before starting out on day trips. A yak safari is a challenging but popular activity in Ladakh, which can be done by anyone who has previous trekking experience.
The camping equipment provided includes two tents, mattresses and sleeping bags. You need to carry your personal clothing, camera, binoculars, etc when you set out from the campsite each day.
8. Try Some Yak Cheese Momos
Yak Cheese Momos are a popular snack in Ladakh. Yak Cheese Momos can be eaten throughout the day, especially as a breakfast or lunch dish.  The dough is made of flour and water, filled with Yak cheese curds, dipped in hot oil for frying which crispy up the exterior, steamed so the inside becomes fluffy, and then served with a spicy sauce.
With the cheese inside, they are sometimes referred to as Dairy Momos. A momo is steamed dumpling filled with ground meat or vegetables, usually served with hot spice made of green chilies.
A Hummus Plate is most often served alongside.  It can be plain hummus with pita bread on the side, or with vegetables and pine nuts sprinkled on top.
9. Hot Butter Tea
Hot Butter Tea is a staple in most Ladakhi households with the main ingredients being Milk, Sugar, and Butter. The recipe has been passed down through generations and its popularity is due to its high-calorie count given by the butter and milk content.
The tea probably originated from Tibet, but it has been perfectly adapted to the local conditions in Ladakh.
The main ingredients are: a block of butter (about 200g) with finely powdered salt and dry/powdered cheese (optional) and tea leaves. Some add sugar but only a few pinches, others add salt instead of or in addition to the sugar.
The tea is brewed with hot water in a large pot. Then butter and some cheese (if used) are melted with milk added to the brew and stirred until dissolved.
A ladle full of tea is removed and served as a first cup ( to check the richness, taste, and strength) and then the pot is filled with a brew for serving. The drink looks rather light in color but it has a rich texture and tastes slightly sweet due to the butter content.
10. Old School Mills
More People need clean drinking water than electricity to survive, so if you can generate both, it's obviously the best option. Building old school mills in Ladakh is becoming more common now that people are aware of their advantages; they act as word-of-mouth generators (teaching other people about sustainable living) and clean water sources (providing drinking water to local communities), power environmentally friendly vehicles, and much more.
The Old School Mills work on two simple principles; first, water is used to turn a waterwheel and second, the kinetic energy from this process is used to power a generator. The waterwheel is connected to a gearbox that rotates an electric generator.
These mills are becoming more popular in Ladakh, where they're providing local people with drinking water and electricity. For example, nearly 300 of these mills were built in 2007. The average family is said to need about 2 kW-hrs per day, so 2 kW of power can supply this for about 5 hours.
Typically, the mills are built on small rivers that flow into lakes or large ponds; this causes the water to circulate continuously and helps to keep it clean. If you're trying to decide whether or not to build an Old School Mill in your area, take a look at where you will build it and ask yourself these questions:
Is there a good flow of water that continuously circulates?
Will the area be able to handle an increase in visitors?
What is the average rainfall like in my area?
How much wind usually blows through the area where I'm going to build the mill?
What obstacles will I have to overcome as a result of building this structure?
The Old School Mills are great sources of sustainable energy, but they're also structures that teach us about how we can live more sustainably and ethically. They don't just generate clean water and electricity, they empower local communities with the knowledge to live a better life.
Best Things To Do in Ladakh 11-20
11. Spituk Gompa Trek
According to legend, some strange events happened here as you will read below and that is how the small monastery (or gompa) got its name. The Spituk Monastery is located in between Leh and Pangong Lake which you can read about as well depending on how long your stay in Ladakh is.
The monastery was built in the 11th century by Od-de, a pupil of the well-known Lotsawa Rinchen Zangpo. The monastery was an important learning center for many great scholars who came from all over Tibet and India to study there.
Road conditions vary when you are going from Leh, which is the largest town in Ladakh, to Spituk. If you are going up from Pangong Tso or Leh, the road conditions might be a little bumpy at times and steep in some areas but they are very manageable. The accommodations on this trail will range from guest houses, which you might have to share with a few other travelers to a few simple monk-style rooms. So just be prepared when going on the Spituk Gompa Trek that you might have to share with another traveler or two in a small room.
The distance from Leh to Pangong Tso is about 110 kilometers (68 miles) and can take you about 6 to 7 hours in a private SUV or about 8-10 hours in a public bus. The distance from Pangong Tso to Spituk Monastery is about 40 kilometers (24 miles) and will take you roughly 3 hours by car or 5 hours by public bus.
How to Get to the Spituk Monastery Trekking Trail
The easiest way to get to Spituk Gompa is by hiring a private SUV for the day. If you are planning on doing some other activities in Ladakh, then Pangong Tso might be a great place to do some sightseeing as well. Make sure that you have a full tank of gas when you set out to do the Spituk Gompa Trek so that you are not stuck on the side of the road with no gas.
Start on your way to Spituk Monastery on the main Leh to Pangong Tso Highway. You will drive for about 20 kilometers before turning left towards Choglamsar. Continue driving on this road for about 6 kilometers before turning right towards the Spituk Monastery.
If you are doing your entire trip with public transportation in Ladakh, then Leh is where you will start. Once you are in Leh, you will have to take a public bus or shared SUV up to Pangong Tso. The ride from Leh to Pangong Tso is about 6 hours in a shared vehicle and 8-9 in a private one. You can find local buses near the taxi stands in Leh at the junction of Chubi Road and Changspa road. You can also share 4-wheel drive vehicles along Changspa Road.
Tips for Spituk Gompa Trek
If you are not going to do any other activities in Ladakh, then you will want to spend at least one night in Pangong Tso. There is a guest house in Pangong Tso that is a few kilometers from the town up a side road. If you are planning on going to Spiti Valley in Himachal Pradesh, then one night in Pangong Tso should be enough time for you to visit Spituk Gompa and head back down to Leh. The distance from Pangong Tso to Spituk Monastery is about 40 kilometers (24 miles) and will take you roughly 3 hours by car or 5 hours by public bus.
When going on the Spituk Gompa Trek, make sure that you bring a jacket with you because it can get very cold at night in the mountains. Also, bring plenty of water with you because there are not many places to fill up your bottles on the Spituk Gompa Trek. Finally, keep an eye out for birds and other wildlife along the trek because Ladakh has some amazing Himalayan fauna!
12. Zanskar Valley Tour
Zanskar Valley (in Ladakh) is a valley in the Indian state of Jammu and Kashmir. It is one of the two main valleys of Ladakh, India, and lies immediately to the west of the Kargil district. Zanskar, together with the neighboring valley Stein Valley, which lies to its east (separated by the Stod or Stod Mountains), form one of the two large parallel valleys in Ladakh.
It is fed by several perennial streams. The only inhabited village in Zanskar, Padum is in the river valley. The valley is drained by the Tsarap River, a tributary of the Lungnak River (itself a tributary of the Indus).
The Zanskar River drains the massif that separates the Zanskar from Ladakh proper. This massif consists of an enormous granite rock-face several kilometers long, including the spectacular Tsarap Chu (river). Between there and Gyamtso Lake, which is fed by this river, there are several high passes. However, the only one that is used for any traffic connects Zanskar to the Kargil District of Ladakh.
The Stod Valley is connected with Padum by a difficult route that leads over the "Langmoche La" (5,610 m). It takes about four days to cross and is usually open only between mid-June and mid-September.
There is a small gompa at "Upshi", which, being on the direct route from Padum to Kargil, was an important center in medieval times. The valley has some of the best quality jade in Ladakh, with its deposits covering quite an area, so much so that the valley is named after it.
The Zanskar River provides ample opportunities for experiencing whitewater kayaking and rafting during the peak season between May and September when water levels are highest. It is recommended to start this trip in Leh where you can easily find suitable transport.
The rafting distance is about 130 km. Tourists are advised to wear warm clothing, rain jackets, and rubber boots to protect themselves from the icy water. The Zanskar River's rocky banks are inhabited by ibexes and marmots. Itineraries usually take in the gorges of Langmoche and Pibiting.
The best season to visit Zanskar Valley Tour is between July and September when the weather is favorable. At this time of year, most of the rivers are swollen with snow-melt, which turns them into fantastic torrents for a few weeks.
Tourists are advised to seek local advice before setting out, as conditions can change very quickly in the mountains. Guides are recommended for Zanskar Valley Tour between June and September.
13. Tso Moriri
is the second-largest freshwater lake in Jammu and Kashmir. It is located in Ladakh, India at an elevation of about 4,555 m (14 ,900 feet). The name Moriri comes from a flower called "morir" which blooms on the shores of this lake during summer.
Tso Moriri, located at a very high altitude, remains frozen for about eight months in a year. It is located on the Leh-Kargil-Srinagar Highway which passes through some beautiful landscapes covered with snow.
The Tso Moriri lake receives water from 32 glaciers of Karakorum mountain ranges, its catchment area is 8,730 square km. The length of the lake is 28.1 km and its width varies from 1km to 12 km in different parts. The maximum depth of the lake which was measured by an echo sounder in 1974, is 105 m.
Tso Moriri is located at a distance of about 150 km from Leh city and 75 km from Kargil town which is the main town of the region. It is accessible from Leh by bus ride on the national highway NH1 which takes about two hours to reach Tso Moriri.
During summertime, the lake and surrounding areas become home to various types of birds like cranes and ducks. The people living close to this lake harvest salt from its water and dry it to use as salt.
The lake's water has a high concentration of sodium chloride and hence is unfit for drinking or irrigation purposes. Close to the Tso Moriri lie two small lakes called Tso Kar and Tso Ab which have salty water making them unfit for any purpose. These three lakes are being considered as a source of water for the whole region.
The lake is a habitat of a number of species of fish, including trout and carp. The local people often go fishing in this beautiful lake. In 2014, three types of fish were introduced into the Tso Moriri which are not found naturally occurring in its waters but have been propagated from another place. The three species of fish introduced in the lake include Puntius sophore, Tor putitora, and Zacco temmincki. In addition, about 12 types of fish were also released in Tso Kar and Tso Ab lakes that are located near the main Tso Moriri lake.
The local people living around this beautiful lake are mainly farmers who grow barley, wheat, buckwheat, and rice in the summer months. They also keep livestock which provides them with dairy products like milk, butter, and cheese. The people living near the Tso Moriri Lake are simple and hospitable. Though they do not receive much tourism due to remoteness still this place is becoming popular with tourists who visit this place in large numbers.
14. Magnetic Hill
About thirteen miles from Leh town is a 'Magnetic Hill' which is said to pull cars uphill, defying gravity. It was also included in the Guinness Book of Records as "the most powerful magnetic anomaly".
The site was considered sacred to the locals before it became popularised through press articles that made claims that reputedly automobiles could be made to roll uphill by their own momentum.
It is reported there are other places in the world with similar phenomena, though none are as widely advertised as this one.
The Magnetic Hill is the main tourist attraction of Ladakh, situated at a distance of 20 km from Leh town. It is located on the Leh-Kargil road. Visitors are taken by car or bus to the top of the hill where they are asked to take their vehicle to the bottom of the hill without stepping on the brake. At the top of this Magnetic Hill, there is an old Hindu temple dedicated to Lord Shiva. This place has become a major tourist attraction not only for India but also for foreign countries, especially England and other English-speaking people who come during the months of May till October. However, it is reported that many people find their vehicles moving uphill without the use of an accelerator on some days and so far no scientific explanation for this phenomenon has been given.
15. Namgyal Tsemo Monastery
Namgyal Tsemo Monastery is a Tibetan Buddhist monastery located in the village of Matho, near Leh, Ladakh in northern India. The monastery was founded by Rinchen Zangpo and Lhatsun Chempo.
The word "Tsemo" means 'channels for curing sickness', and this monastery is considered as one of the main Tibetan medical teaching monasteries in Ladakh. The word "Namgyal" means 'victory over the land of snow'.
The original name of this monastery was Namgyaling and it was built between 958 and 1042 by Rinchen Zangpo, a famous Tibetan translator who is credited with the establishment of Buddhism in Tibet. His monumental contribution to the Buddhist religion is known as "Rinchen Zangpo's Tantric College". The monastery was initially built during the reign of Sadnalegs (814-867), who oversaw the construction of temples in Tibet. However, it was expanded by King Yeshe Od (ruled between 1077 and 1113), who was responsible for the construction of three temples in Tibet.
The main temple, which faces south, is about 50 feet (15 m) long and 36 feet (11 m) wide. The Namgyal Tsemo Monastery was destroyed by fire in 1914 but reconstructed later on with the help of local people. In 1941, during the Cultural Revolution, local people destroyed a large part of the monastery. It was also damaged by an earthquake in 1955. The main prayer hall is adorned with paintings and murals depicting scenes from Buddha's life. A distinctive aspect of this artwork is that these images are not stylized but drawn as they would be were they real-life depictions. The monastery also houses a life-size statue of the Shakyamuni Buddha, a library, and a museum It was restored in 1997 by Tibetan monks from Thailand who lived there for years studying Buddhist philosophy.
In 2012, Namgyal Tsemo Monastery was used as a location for the filming of popular Bollywood film "Yeh Jawaani Hai Deewani".
A medical school was established at the Namgyal Tsemo Monastery, in 1931 by a Tibetan Lama called Gedun Choepel who was a disciple of Tenzin Gyatso, the Dalai Lama. The medical college was opened with the aim to promote Tibetan medicine and provide treatment for people in Ladakh and Baltistan. It is the only such medical school in Asia. The institute also provides free treatment to the local population of Ladakh and Baltistan. There are four departments at this college: internal medicine, surgery, obstetrics and gynecology, and ophthalmology.
16. Lamayuru
Lamayuru is a town in the Ladakh region of India's northernmost state, Jammu and Kashmir. The small village is home to four important monasteries.
Because of its location in the Himalaya Mountains, Lamayuru experiences a very cold desert climate with long, harsh winters and short mild summers.
The monasteries of Lamayuru were built between the 11th and 13th centuries. As such, they are some of the oldest gompas in Ladakh. They played an important role in Ladakhi politics during the 18th century. After falling in disrepair, the monasteries were repaired in the 1980s during a Ladakhi cultural revival movement.
Today, Lamayuru is home to about 500 people who are involved primarily in animal husbandry/agriculture and tourism. Visitors can explore the town's four gompas, which are all open to visitors, as well as the monastery museum and a newly built Lak Rimpoche temple.
The Lamayuru Monastery was founded by the Polymath Sumatibuddha, one of the most important figures in Ladakh's history. The monastery was expanded during the 11th century by Princess Palden Tsomo who brought with her a sacred image from Nepal.
The Alchi Monastery was founded in 1106 by Dromtön, a pupil of Atisha who spread Buddhism in Tibet. The monastery was used by Lamas to study and meditate, and the texts they produced played a major role in spreading Buddhism throughout Ladakh.
The Chemrey Monastery was founded by Lama Duwang Chosje who brought the Taklung Kagyu school of Tibetan Buddhism to Ladakh.
The Phyang Monastery was established in the early 13th century by Togon-Temur and his son Ben. Monks from Tibet and Mongolia studied there, and the monastery had great prominence between the 17th and 18th centuries under Lama Yontan Thaye.
Today, the monasteries of Lamayuru are all active temples, and monks still study there. Lamayuru is the only place in Ladakh where Buddhists do not form a majority of the population.
17. Chadar Trek
Chadar Trek is an adventure of a lifetime. It is one of the longest and toughest treks, located in the Ladakh region of Jammu & Kashmir (a northern state in India).
It is famous for its ice-sheet walk on the frozen Zanskar River. The trek begins at Nimaling near Pangong Tso Lake (3550 m) near Leh, which is one of the highest motorable roads in the world. The trek passes through many high-altitude mountain passes.
Starting with the most famous ice walk on the frozen Zanskar River, it ends at Hemis monastery (3840 m). It takes about 2 weeks to finish this extreme adventure! A few people actually do the Chadar Trek in winter, which is very tough and not commonly done by people.
Places of Interest:
Pangong Tso Lake (3550 m)
Nimaling (3750 m)
Suraj Tal (3260m)
Panamik Village (3240 m)
Shyok Village (2950 m)
Stongdey Monastery (3200 m)
Karu village (3090m)
Nako (3020 m)
Lamayuru monastery (2700 m)
Kargyak village (2680 m)
Homtso Lake (2670 m)
Lamayuru Village (2550 m)
Sumdo village 2550m)
Komic village 2380 m)
Turtuk village (1950 m)
Hemis Monastery (3840m).
Difficulty Level: Extremely Tough
The trek is one of the toughest treks and should not be attempted by people with fear of heights, sicknesses etc. It begins at 3550 m high Pangong Tso lake along the India-China border, passes through high altitude mountain passes (such as Stongdey Monastery at 3200 m), then ends up at one of the highest motorable roads in the world (the Hemis National Highway at 3840 m).
The weather is very unpredictable and can change at any time. There might be snowfall and it will make your trek extremely tough. It is advisable to go with an experienced tour operator who has done this before and knows how to tackle such conditions.
It is usually done from December to early March (off-peak winter) and June to August (Indian Summer).
Since it is a tough trek, there are chances of altitude sickness at such high altitudes and harsh climates. Also, the Zanskar River can be challenging to walk on especially when there's ice.
It is best to go with an experienced tour operator who knows how to tackle such conditions. You can find a lot of operators in Leh- Ladakh region.
18. Nubra Valley
Nubra Valley is a beautiful valley in Ladakh, Jammu and Kashmir. This amazing place is located about 160km from Leh town between the Karakoram Range to the east and the western slopes of the Himalayas to the west. Nubra Valley is also known as Ldumra – which actually means "Valley of Flowers".
It is situated at an elevation of about 11,500 feet above sea level.
The valley's landscape consists of long stretches of flat land divided by the meandering Shyok River. This river flows down from the Rimo Glacier and joins the mighty Indus River in Pakistan. The place has a very serene atmosphere throughout the year. However, it is most beautiful during the months of June to September.
Nubra Valley has many Buddhist monasteries and artworks by some great artists. The important points in this region are Diskit Gompa, Hundar (Saspol), Panamik (Taktse) and Sumur. There are several other small villages in the Nubra Valley.
Diskit Gompa is one of the oldest monasteries in Ladakh. It also has a museum that has many holy relics related to Buddhism. The artwork on its walls is masterpieces by some great artists. It is said that these paintings date back to the 18th century AD.
Hundar (Saspol) is the highest motorable village in the world. The place is situated at an altitude of 16,400 feet and it takes about 2 days to reach here on foot from Diskit. There are many Buddhist monasteries and artworks that can be found in this region. Hundar (Saspol) is known for its hot water springs that attract many tourists.
Panamik (Taktse) is a small village in Nubra Valley, Ladakh. It is situated at an elevation of 11,500 ft above sea level and has an amazing panoramic view of the Himalayas. This place was once the trading site between Ladakh and Central Asia (Kashmir, Tibet). The ruins of that time can be found in this region. It is famous for its hot water spring which originates from an artesian well at a depth of 170 ft. This spring provides natural sulfur water which has medicinal value and is known for curing many skin diseases.
Sumur is a small village located on the bank of the Shyok River in Ladakh, Jammu and Kashmir. It has a beautiful landscape of high mountains and meadows surrounded by colorful flowers. There are many farms nearby that grow vegetables for the residents all year round. In winter, this whole region of Nubra Valley is covered by snow.
Nubra Valley is also home to many animals like Himalayan brown bear, ass, ibex, marmot, Tibetan wolf, and the blue sheep. It is a great place for bird watching too. The wildlife has an ideal habitat in this region which has grasslands, valleys, and high altitudes. So much so, that the government is planning to start a wildlife sanctuary in this region.
Nubra Valley is also well known for its high-quality wool and cashmere shawls which are much sought after. The handcrafted jewelry items here made from gold and silver (traditional caps, earrings, nose pins, pendants, etc.) are very expensive and rare. The traditional dresses worn by the locals are very colorful and attractive too.
The region is also popular for its tasty apricots which were introduced here from central Asia about 300 years ago. These apricots have a special taste all year round because of the different types of soils found in this region. It is said that about 60% of the apricots grown in India are from this region.
The people living here are mostly Buddhists and Muslims. They live in simple houses made up of stones, mud, and wooden beams. The main language used here is Ladakhi, however, Urdu is also widely used by many people here. This valley has its own importance in Indian history. It is said that during times of war, Ladakhis used to hide their most important belongings in the Nubra Valley.
19. Donkey Sanctuary
Donkey Sanctuary is an organization that looks after the welfare of donkeys and mules. It was founded in 1979 by Muriel Watt and is based in the United Kingdom. The donkey sanctuary also operates in several other countries like Nicaragua, China, Ghana, the Philippines, and India (Ladakh region).
The entire work of Donkey Sanctuary revolves around veterinary care for donkeys and mules which have been abandoned or whose owners are incapable of caring for them. The organization also tries to prevent the use of donkeys and mules in unsuitable or hazardous occupations by campaigning with various local governments, NGOs, and individuals.
Donkey Sanctuary in Ladakh is situated at a distance of 40 km from Leh town on the right bank of river Indus. Before Donkey Sanctuary of Ladakh started its operation, donkeys were looked after by the local people of the area at their own cost. The Donkey Sanctuary is a rescue center for over 200 abandoned and abused donkeys who are suffering from malnutrition, dehydration, diarrhea, wounds, etc.
Donkey Sanctuary in Ladakh provides various veterinary facilities to the donkeys which include shelter, food, veterinary treatment, and farrier care.
20. Drang Drung Glacier
Drang Drung Glacier is a glacier in the Himalayan Range situated south of Siachen Glacier. It is located at an elevation of 5500-6000 m above sea level.
The average thickness of Drang Drung Glacier is ~400m and its surface area is ~30-35 km2. The perimeter of the glacier has been observed to have shrunk from ~ 320 km in 1980 to 270 km in 2005.
Drang Drung Glacier has several tributaries that drain into it from the main mountain ridges, they are west-southwest oriented.
The waters of these glaciers and streams join together near Dras and flow further down south towards Siachin Glacier.
The glacier has been retreating in its catchments and this is evident from the fact that it has lost about 200 meters of the thickness of ice over the last hundred years due to global warming.
Best Things To Do in Ladakh 21-30
21. Chemrey Monastery
Chemrey is one of the most ancient monasteries in Ladakh. It was established by Lhaje Gompa Chos-rje-dpal-'byor. According to local tradition, the monastery got its name from a demon called Chemrey, who ruled the area before Buddhism was established here. Chemrey Monastery is situated on top of a hill, making it visible from afar.
The monastery complex consists of several monastic buildings surrounding a courtyard with a temple gompa at its center. The roofs are covered by slate tiles, while the walls are made of stone and decorated with images of deities and dragons.
Chemrey Monastery was once a thriving educational center that hosted up to 80 students at a time.
The monastery's Lhakhang Chenmo (main temple) contains a 3 meters tall statue of Sakyamuni, also known as the 'Chemrey Buddha'. The monastery is also decorated with thangka paintings, its walls covered in murals depicting various events from the life of Buddha.
The innermost shrine room houses statues of Vajradhara (Mongse Tsedan), Tara, and other protector deities. The roof-top temple contains a large statue of Maitreya (or Mi-la-re-pa), the Buddha of the future.
Today, Chemrey Monastery is home to only three Buddhist monks and according to local sources, its days as an educational institution are long gone. The monastery is currently in need of restoration work and it remains unclear whether this will happen.
22. Shanti Stupa
Shanti Stupa is a Buddhist pilgrimage site in Ladakh, northern India. It is located at an altitude of 4450 m above sea level on top of Mout Latho Hill near Mashobra village about 12 km northwest of Leh town in the Ladakh region in the Indian state of Jammu and Kashmir and about 3 km north-west of Stok village.
The Shanti Stupa was built in the Ladakh region by Thukten Rinpoche with funds raised by Tibetans worldwide. Built as a monument to world peace, it is an important pilgrimage site for Buddhists.
The Stupa was consecrated by the Dalai Lama and it has the capacity of holding up to 300,000 prayer flags. There is also a museum at the site which contains some relics from Sri Lanka. The stupa also contains some Buddhist relics believed to be from Sri Lanka and there is a small museum near the stupa.
A 3D image of Shanti Stupa was created by a team from Bangalore led by Rajiv Mehrotra and Abhishek Singh which won the National Award for Best Innovative Project under Science and Technology category. The theme depicted is "Peace". Under the award citation, it says: "The Stupa is a great work of science, art, and spirituality. The team has used the latest technology to create the world's first 3D Stupa model."
23. Gurudwara Patthar Sahib
Gurudwara Patthar Sahib is located in Ladakh, which is a district of Kashmir. It is situated near Khardung La pass (which means the "pass of soldiers", as it is said that about 50000 Indian Soldiers died here during World War II) on the Leh-Srinagar highway. A gurudwara was built around this place to commemorate the visit of Guru Nanak Dev Ji.
This Gurudwara is very famous among the Sikh community and is visited by thousands of people all over the year. People believe that a visit to this holy shrine will fulfill their wishes and desires. No special prayers, rituals, or recitations are required at this place. A visit here is considered sufficient.
Guru Nanak Dev visited Ladakh in his very first Udasi (travels). When he reached the place where the Gurudwara now stands, a demon named Bhraman had been troubling the people of Ladakh and also preventing them from going any further. The demon was ultimately killed by Guru Ji and from then onwards the road could be used by people without any fear.
Patthar Sahib is situated in the Lapchi area near Leh, Ladakh. It is located about 42 km away from Leh town on Srinagar-Leh highway (NH 1D). The nearest airport is at Leh.
24. Main Bazaar
The Main Bazaar is the biggest and busiest bazaar in Leh, Jammu & Kashmir. It is also called Changspa Market because it is located in the Changspa area of the city. This market functions from 10:00 am to 8:30 pm daily and opens on Sundays and Public Holidays for extra business. The Main Bazaar houses mostly shops where tourists can purchase products at a cheaper price than the boutique shops in Leh. This bazaar is also the best place to witness Ladakhi culture, history, and tradition.
The Main Bazaar has around 300 stalls selling various handicrafts, jewelry, clothes, Tibetan items, and handmade paper. There are also plenty of dukpa stalls selling Tibetan food, beverages, and snacks. The Main Bazaar is crowded with people from all over the world who have come to Leh on a vacation.
The Northern Light cafe and several restaurants like the Lucky's and the Pumpernickel Bakery (famous for its desserts) can be found here.
The main bazaar is the best place to buy products at a cheaper rate as its original prices are more than 30% cheaper than the boutique shops in Leh. Also, Main Bazaar has its own charm and is a perfect place for those interested in shopping.
The Main Bazaar is also famous for its unique Ladakhi culture and tradition. You can see people wearing traditional dresses while visiting this place. It is a perfect way to learn about the Ladakhi culture, history, and traditions at Leh city in Jammu & Kashmir.
25. Pangong Tso
Pangong Tso is a saltwater lake in the Himalayas of Ladakh, some 150 kilometers south of Leh. The lake is 80 km long and stretches from India (where it is 5129 ft.) to the adjoining country of Tibet (where it is 4576 ft.). According to local legend, Pangong Tso was created after an epic battle between gods and demons. This story is depicted in the lake's colorful rock formations, islands, and sand dunes.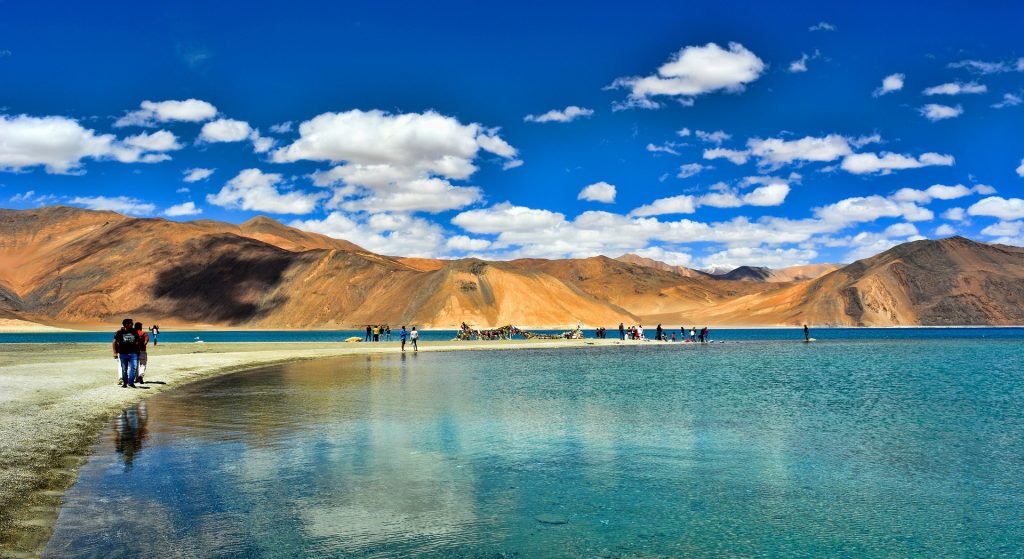 Pangong Tso has been a major pilgrimage site for Buddhists, Hindus, Sikhs, Jains, and Bonpos who come to offer prayers around its two sacred islands: Ngangtak Changtse ("Flaming Mountain Island") and Drangme Chiling ("Golden Pasture Island").
On the Indian side of the lake, a Buddhist monastery offers guesthouse facilities to pilgrims. Pilgrims can also visit nearby Gurudwara Pathar Sahib, which commemorates Guru Nanak's visit to Pangong Tso in 1515.
26. Markha Valley Trek
Markha Valley Trek is one of the most popular treks in Ladakh, India. Markha Valley is also known as the "kingdom of light". It was of great importance for the ancient silk route trade.
Markha Valley Trek becomes even more exciting and adventurous when you do it with a local guide. Local guides help you to make your journey more interesting and comfortable. He will take you to the remotest regions of the Valley.
He knows all the shortcuts, hidden trails, small towns, important information about the Tibet border, etc. Besides he is a good photographer to click pictures of your memorable moments in the Valley.
One thing that must be kept in mind is that though the Markha Valley trek is popularly known for its trekking experience it requires a high level of fitness. The routes are rocky and sometimes steep.
It is better to consult your doctor before you start this trek.
The area beyond the village of Markha has a number of Tibetan refugee villages in a very beautiful alpine setting with old-world charm, almost untouched by modern influence.
Markha Valley Trek has been designed to go into remote regions that are rarely visited. The trekking routes pass through many small villages that have rarely seen foreigners before.
27. Stok Kangri
is a mountain which is situated in the Himalayas. It is part of the Gangdise range. There are 6 peaks to Stok Kangri but only two, North and South Peak, are climbed by people. The other four peaks are not accessible because they are too steep or too far away from mountaineering trails.
Stok Kangri has an elevation of 6,153 meters (20,176 feet). It is the highest peak of Stok village which itself is a part of Ladakh.
The first ascent was made by an Anglo-Swiss team in 1984 led by Fernand Odermatt via the North-East ridge. However, this route has now been deemed too dangerous and is rarely climbed.
The usual climbing route begins from Bumthang in Chushul Valley, an eight-day trek from Leh or a five-day trek from Diskit. The area is a restricted zone for foreigners and a special permit must be obtained to climb the mountain. Climbing permits cost about $250.
This mountain is climbed in the same expedition as the more difficult climb of Teram Kangri.
28. Lala's Art Cafe
Lala's Art Cafe is a cafe in Ladakh with magnificent views, delicious food, and beautiful art. This restaurant is located on the rooftop of Hotel Ibex in Leh, Ladakh. The view from this rooftop looks out over the typically brown and tan mountains and expanse of desert that is Ladakh. To get to Lala's Art Cafe, visitors must take an elevator up to the roof. On the way there, signs point out that this building was originally used as a waterpipe factory.
Lala's Art Cafe is owned and operated by Lala. With a menu that has vegetarian options, tourists are welcome to try Lala's famous momos (dumplings).
29. Kargil
Kargil is located in the Ladakh region of Jammu & Kashmir state. The township is situated at an elevation of 3527 m above sea level. This area has one of the world's highest mountain ranges around it, with peaks as high as 21000 feet above sea level.
The Kargil War was fought by India and Pakistan over the disputed territory of Kashmir, five kilometers along the Line of Control (LOC), in the Kargil district of Kashmir, and elsewhere along the LoC.
The war began in May 1999 and ended in July 1999, in a victory for India. The majority of higher peaks remain under Indian control today.
30. Diskit Monastery
Diskit Monastery sits high on the hill overlooking the town of Diskit, in Ladakh, India. It is home to Buddhist monks who come from different parts of the country.
Diskit Monastery is located in the Ladak region near Leh. The monastery is very famous for its precious art and culture. It has been built with traditional designs on green hilltop background with snow-clad mountains behind it. Monastery allows visitors to visit and roam around the monastery without any special permission.
The monastery was founded by Lama Lhawang Lotus in the 14th century AD, and it houses some rare manuscripts that are more than 700 years old. The main building houses a huge statue of Buddha that is 21 feet (6.5 m) high and 15 feet (4.5 meters) wide, and it has a priceless collection of manuscripts such as rare texts about Tibetan medicine and astrology. The monastery also houses a museum with Buddhist artifacts.
Disket Monastery is one of the famous destinations for tourists in Ladakh. The monastery is a source of attraction for local as well as foreign tourists.
Best Things To Do in Ladakh 31-40
31. Sangam Point
Sangam Point is the Indian name for the confluence of the Indus River and Zanskar Rivers. Some people also like to call it Confluence Point or Haji Peer (a famous landmark).
The river junction marks the end of the Indus Valley, one of several places where this occurs. Geographically speaking, it is in a watershed that then flows through Pakistan.
In this sense, it is also one of the ending points of the Indus River's journey from its source to the Arabian Sea.
After passing by Leh, a city in Ladakh, India, the river continues its route southward through Pakistan and joins the Arabian Sea near Karachi. Looking at a map, the distance from Sangam Point to Karachi is about 1,200 miles.
Surrounding the point is a barren desert with mountains and cliffs all around. It's one of the only places in India where there's no green or water for that matter—it's just sand and rocks. However, Hindus regard this place as holy as it is one of the points where the Indus River and Zanskar Rivers converge to form another river called the Padma.
32. Tso Kar Lake
32. Tso Kar Lake is a lake in the Ladakh region of the state of Jammu and Kashmir. The lake is called an endorheic saltwater lake which means it has no outlet, but evaporation accounts for most of its surface inflow. It is close to the Himalayan mountain range, sitting at an elevation of 4 773 m above sea level. The lake is separated into two sections, the "upper tso" or "higher sea" and the "lower tso".
The surrounding areas are mountainous with close proximity to other lakes. Zanskar River surrounds it on three sides. The climate of Tso Kar is similar to most lakes in the Himalayan region, which makes it a popular tourist location for people who seek a break from city life.
Tso Kar Lake has a total of five villages surrounding it, which are Phuktal, Zangla, Tsokar, Kungri, and Khalsa. Each village is located on the banks of the lake and built their homes with rocks from the mountains.
33. Drass Valley
Drass Valley is a valley in Ladakh, Jammu and Kashmir. The road to Kargil passes through this valley. Drass Valley is famous for its natural environment, arid climate, and the shelling from the Pakistani army during the wars.
There are many famous places such as two dry seb lake (Dsti Samundar) named "Hielam" and "Palwan".
There are also two glaciers located above the Drass Valley namely Dudh Top and Gurung Top. Shingo La Pass is a famous pass that connects Dras to Gurez via Goma in Bandipora district, Jammu and Kashmir. The town of Kargil is located to the west of Drass Valley.
This valley is also known as "The Gateway To Ladakh" and is one of the most isolated areas in India, with Jammu & Kashmir being its neighbor. The correct pronunciation for Dras is "Dhras", which rhymes with 'blaz'.
Drass Valley suffered heavily as a result of the Indo-Pakistani War of 1971 when Pakistani troops attacked and occupied Kargil for some time.
The town of Dras was also subjected to heavy shelling from the Pakistan army during the Kargil War in 1999. As many as 3,000 civilians and 572 Indian soldiers were killed during the war.
It is commonly accepted that life in Kashmir Valley has been affected adversely because of militancy and insurgency, but the inhabitants of Dras and Kargil, who have been bearing the brunt of a continuous war-like situation since 1989, have somehow managed to survive and thrive.
34. Leh Post Office
Leh Post Office is a historical building in Leh, Ladakh. The post office is located near the Main Market of the Central Ladakh region. It was built by maharaja Hari Singh in 1849 A.D to provide postal facilities to traders and visitors who came from Europe.
The Leh Post Office is a red-brick building with sloping roofs. It is an example of Pahari architecture, which was common in the 18th century. Letterboxes are made of wood and kept outside the post office.
The Bhoti language was used for official communication until 1928 when it was changed to Urdu. After Ladakh became a part of India, Urdu was replaced by Hindi.
The first motor road to connect Ladakh with the rest of India came in 1939, and a post office was built there as well. The new post office is connected through a telephone line as well as other communication facilities.
In 2009, Leh Post Office celebrated 150 years of its establishment. Postage stamps were also released to mark the occasion.
35. Stok Palace Museum
Stok Palace Museum is situated in Stok, Ladakh. This palace museum is dedicated to the King of Stok, Namgyal Bahadur Rnam Rgyal, and his Queen Mother, Sonam Choskyi Dolma. The main structure of this museum was built between 1820-1825 by Tsewang Namgyal who was the founder of the Stok Dynasty.
Its construction is similar to that of Leh Palace but smaller in scale. However, it is more elaborate than Leh Palace with its finely finished wooden walls painted with murals and decorated with colorful glass inlays. The palace was refurbished by His Highness Tenzin Namgyal in 1993, who also added an extension to the museum.
The main entrance to the palace has a grand facade with fluted wooden columns painted in red and orange, decorated with traditional motifs of fluttering white scarf (khatamband), chains of bell-shaped pearls, two dragon heads on either side of the entry door and crowned by multi-tiered wooden roofs with a finial at the top.
The palace & museum is divided into four wings, each housing different galleries: Central Museum, Exhibition Hall for Sacred Treasures, Folklore Museum, and Gallery of Contemporary Arts.
Exhibition Halls for Sacred Treasures exhibits weapons such as swords, daggers, and guns used by the Kings of Stok in their wars with Ladakh.
The Folklore Museum showcases the history and culture of the region through its collection of costumes, ornaments, utensils, kitchen equipment, and other precious items belonging to the Royal Family. It also preserves the traditional Tibetan kitchen that was used by Queen Sonam Choskyi Dolma.
The Central Museum displays objects of art and craftsmanship made from wood, leather, bone, ivory, metal, and horn that belonged to the Royal family. The most notable artifacts on display are a throne made from one single block of sandalwood for kings for their coronation ceremonies and a syrinx (trumpet) with a carved dragon at the top. The museum also showcases a collection of ancient weapons, including spears and daggers found in the tombs of Ladakh.
Other galleries include textiles, ivory products, wooden objects (carvings on wood panels), paintings on leather, weapons used by kings for their coronation ceremony, and other miscellaneous items.
The Stok Palace Museum also displays a collection of old phurpa daggers and other artifacts from ancient Tibet. It has a large collection of old weapons used by kings for their coronation ceremony – crowns, capes, robes, and boots. In addition to the museum shop displaying jewelry, ornaments, and prayer wheels, there is also a café operated by the royal family.
The Stok Palace Museum is located on top of a hill, commanding views of the Indus River and Nyegi Village. It is about four kilometers from Stok Village, just before Shey.
36. Hall Of Fame
Situated high above the village of Leh, Ladakh's Hall Of Fame is a huge collection of decommissioned military tanks. The area itself is an important piece of history for the India-Pakistan wars during the early 80s which resulted in heavy casualties by both sides. You can read about it here.
The tanks are kept in working order and there is a fee of 500 rupees for anyone who wishes to enter the compound. Once inside you are free to explore at your own pace with audio guides available in several different languages.
There are over 150 tanks displayed across an area of more than 70 acres, including British, German, Russian, and Indian war machines. You are free to take pictures but it is not allowed to climb on the vehicles.
The majority of tanks are situated in open fields with limited shade so once your battery runs out on your camera it will soon run out on you too! The best time to visit the Hall Of Fame is in the evening once the temperatures have dropped and the light is perfect for photographs.
The area has an excellent view of Leh below and it's far enough away from town that you can still enjoy some peace and quiet. It is a popular tourist attraction in Leh however when we went there were only two other people visiting at the same time as us.
The Hall Of Fame is a great place to spend a few hours and the audio guides are well worth hiring. The tour will take you around 1 hour at a slow pace with plenty of photo opportunities. Once back in Leh do yourself a favor and head down to Spituk for some superb views from above!
37. Zorawar Fort
Zorawar Fort is located in the Himalayan range, north of Kashmir. Suleiman Shikoh was the great-grandson of Pashtun Emperor Babur. He attacked and conquered Ladakh in 1834 with an army consisting of 12000 men and personally led his forces to take over Zorawar Fort.
Suleiman attacked the fort because it was a fortress on a highway connecting Tibet and Central Asia, which gave him an opportunity to expand his territory and gain control of new resources. At that time, Ladakh was under the rule of Mughal Emperor Shah Jahan II from Kashmir. The Mughal empire was declining and Suleiman invaded Ladakh with the intention of taking over both Ladakh and Kashmir.
Suleiman and his forces were successful in capturing Zorawar Fort, which was controlled by a Rajput general named Hari Chand. According to legends, when they entered the fort, there was a violent sandstorm that lasted for three days. During that time, the general and his forces committed mass suicide by cutting their own throats to avoid being captured and enslaved. The fort was named Zorawar after this event because it means "conqueror of blood" in Pashto.
38. Ladakh Harvest Festival
Ladakh Harvest Festival is a festival held for three days in the month of February. This festival celebrates the end of the harvest season and usually falls in late January or mid-February.
The Ladakhis celebrate this festival through various activities, most of which are events that happen in their lives for three days. These activities include wearing new clothes, meeting friends and neighbors they have not seen all year, visiting the monastery, or attending religious rituals at their homes. The day after Losar begins they visit one another, enjoy each other's company, dance, and eat.
The three days following Losar are spent performing religious rituals at home. On the final day, people visit their friends and relatives who live nearby, exchange gifts of money or goods known as "tschug" or "ripa", have a good meal together, introduce one another to their children. They may spend the whole day visiting so by the time they return home it is very late, and they have to get up early the next morning for work again.
39. Matho Nagrang Festival
Matho Nagrang Festival is a yearly festival celebrated in Matho Village which is located on the bank of the Indus River, Ladakh. It is organized and led by Tamil Monks and Tadpole (Tengpo) Lama who is the head monk of Matho Monastery.
Matho Nagrang Festival takes place at the end of the winter season in Ladakh. Young boys and girls who are representing their respective villages dance together to celebrate the festival. It is a sacred Buddhist festival that honors the guardian deity of Matho Village.
In this festival, people from different villages visit to take part in the celebrations and rituals that take place on the occasion. They pay their respect and show their faith in this ritual.
40. Changthang Wildlife Sanctuary
The Changthang Wildlife Sanctuary is a protected area located in Ladakh, India. It covers parts of the Rupshu region and extends east from Demchok to Chushul on the Indo-Tibetan border, with a total area of 1,400 km2 (540 sq mi). The altitude ranges from 8,000 ft (2,400 m) to 18,000 ft (5,500 m).
The sanctuary is rich with wildlife such as the snow leopard and other rare species of brown bear and monal; there are more than 150 bird species. It has been identified by Birdlife International as an Important Bird Area (IBA). The increased number of visitors to Ladakh has posed a threat to the sanctuary. Since it is located in an important watershed, water supply for human usage and irrigation is dependent on the condition of the land.
The Changthang Wildlife Sanctuary was established in 1975 around an area where previously there was poaching. Its purpose is to protect the wildlife of the area, particularly the endangered species of snow leopard. The land is used by nomads for grazing their animals; however, this activity is controlled to prevent overgrazing.
The sanctuary has been identified as an Important Bird Area (IBA) by BirdLife International because it supports some breeding populations of both Tibetan sandgrouse and yellow-billed choughs. It is also an important wintering ground for the lesser white-fronted goose, which numbers between 170,000 and 220,000 birds.
In 2010, there was a proposal to build a road from Sakti through Rupshu plateau past Chushul to Chumur. The road would provide new access to the plateau and shorten journey times by as much as two hours at some points, including from Leh to Chushul. However, critics contend that it would increase tourism and traffic on the plateau and may lead to poaching and land degradation.
The proposed construction of an 11-km-long U-shaped, three-meter wide road from Chumur to Chushul would open up the Changthang plateau for easier accessibility. However, it would also violate one of the conditions of establishing this sanctuary. The administration has opposed the construction of roads. The proposed road is different from that approved in 1985 which only consisted of a link between Chumur and the border outpost at Chushul. The road was to be built along with a bridge over the Indus river near Chumur to facilitate local movement of people, goods, and vehicles.
Best Things To Do in Ladakh 41 and beyond
41. Leh Bazaar
Leh Bazaar is a major shopping area in Leh, the capital city of Ladakh. Like other bazaars around India, it consists of streets lined with shops and stalls selling goods from clothing to traditional Ladakhi jewelry. Customers can buy local artworks and handicrafts here. There are also restaurants for people to eat at. The nearest landmark is Leh Palace.
Leh Bazaar was once the palace entrance during the time of the kings in Ladakh. Today, it has become quite a commercial hub. The place is well connected to the rest of the city by buses and shared taxis. Besides shopping, tourists come here for authentic Ladakhi cuisine at one of its many restaurants or cafes.
Leh Bazaar is open from 9:00 am to 8:00 pm daily. There are many handicraft and carpet shops in the market. Other than this, it also has many jewelers who sell traditional Ladakhi jewelry, such as rings and pendants made of turquoise stones. These items make good souvenirs for friends and family.
42. Leh Palace
Leh Palace is a palace located in Leh. It is an element of architectural importance that was established by king Sengge Namgyal starting with the construction of its foundation in the 16th century. The palace also consists of several other buildings like Leh Fort. Besides being a place to live, it is also used as the administrative office for the kingdom (especially King) and also as a watchtower.
There is a debate that says that the palace was originally constructed between 1553-1648 but there are no proofs or evidence available for this date. There were several renovations made to the palace, starting from 1744 till now; with the most recent renovation being carried out in 2011 and it changed the roof structure to look like Buddhist Stupas.
The palace is now one of the major tourist attractions in Ladakh due to its picturesque location and also because it has represented historical importance. It was built with stones, mud, and wood; materials that were readily available during that time period. Several parts of the construction saw damage but were repaired; again with the help of mud, wood, and stones.
The palace consists of other buildings like Leh fort that are all important for archaeological purposes. The entire setup provides an idea about how Ladakh looked like in the 15th or 16th century (it is said to be a replica of what Leh-Ladakh used to look like in the past).
43. Turtuk
Turtuk is a small village located in the Ladakh region of Indian-administered Kashmir. It is located south of Baltistan, on the left bank of the Shyok River, and has an average elevation of 3,500 meters (11,500 ft). It remains cut off from the rest of India for five months every year due to heavy snowfall on the Karakoram Highway which connects it with Leh, Ladakh's regional capital.
Turtuk still has strong emotional ties with many individuals in India who are of Punjabi ethnicity due to events during the Partition when Sikhs and Hindus were forced to leave Pakistan. Turtuk was one of the first places Indian troops landed in 1971 to liberate Bangladesh.
The village is home to several ancient relics of the Rajas of the Chamba State during the 9th century. There are ancient rock carvings, old temples, and tombs built between 1594-1643 AD known as the Shahi Dynasty by Balti rulers. They were later ruled by Mughal governors.
Turtuk is famous for its honey, apricots, and tasty potatoes. It has the "world's highest golf course", established by Peter Thompson in 1993, called Khardung La Challenge Golf Course which measures 6,666 yards (6,051 m) and is situated at an altitude of 4,714 meters (15,400 ft).
44. Shey Palace
Shey Palace is located in Ladakh, India. It is situated on a ridge half a mile above the oasis of Shey, near the village of Shey, which lies on the main road between Leh and Thiksey.
The palace was built by King Sengge Namgyal in 1655 as his residence. The Kangra artist Jeur Singh was responsible for the paintings and decoration of the walls and ceilings.
The monastery (gompa) below the palace was founded in 1730 by King Tsewang Rigzin, now housing an image of Maitreya as well as those of Chenresig, Padmasambhava, Sakyamuni, and the kings of Ladakh.
Shey Palace is a World Heritage Site as part of the historic monuments and buildings of Leh Palace. Shey Palace was also added to UNESCO Asia-Pacific Awards for Cultural Heritage Conservation in 2011 under the category "Conservation of Historic Townscape". It is maintained by Indian National Trust for Art and Cultural Heritage (INTACH).
In 2016, the restoration work of Shey Palace was done by INTACH. The palace is now opened to tourists as a heritage hotel.
45. Thiksey Monastery
Thiksey Monastery is a gompa located in Ladakh, India. It is located about 16 kilometers from Leh on the Indus river. It is home to over 1,000 monks and students of Buddhist philosophy. The monastery was founded by Od-de, who arrived in Ladakh with his nephew Lhatsun Chenpo in 1215 AD.
The construction of the monastery was completed in 1220 AD. Od-de built the monastery using the money that he earned from working as a professional teacher.
The monastery is unusual in that it contains no large prayer halls or assembly rooms for ceremonies and rituals, but rather individual housing units for monks and students inside a walled compound, like an apartment complex.
The monastery belongs to the Gelug sect of Buddhism. The word Thiksey literally means "pinnacle of excellence." Thiksey Monastery is one of the largest monasteries in Leh.
46. Spituk Monastery
Spituk Monastery is a Buddhist monastery located in a village near Leh, Ladakh. The Spituk Monastery was founded by Od-de, the elder brother of Lha Lama Changchub Od when he came from Rgyal on a pilgrimage to Tsaparang. In 1065, Od-de built a gompa at Spituk using some material from the Rgyal Gompa and named it "Srid-spungs-gompa". When Lha Lama Changchub Od came to visit, he made some modifications in it. He built a large prayer hall for the monks and monastic dance grounds beside the monastery.
47. Stok Monastery
Stok Monastery is a Tibetan Buddhist monastery situated near the village of Stok which is about 15 kilometers from Leh, the capital of Ladakh. It was founded by Changsems Sherabs Zangpo during the 14th Century and later restored by Lama Lhawang Lotus in 1672. The main temple houses a giant statue of Maitreya, the Buddha of the future, while many other temples are also present within the premises.
The monastery, which is reached by climbing a stone staircase that goes up over 400 steps, offers beautiful views of the valley below.
At an altitude of 3,400 meters above sea level, Stok Monastery is one of the highest elevated monasteries in Ladakh.
48. Alchi Monastery
Alchi Monastery is a Buddhist monastery located in the Leh district of Ladakh, India. It was one of two primary centers of learning for the Bön religion until the 12th century, which is today considered a form of Tibetan Buddhism. The monastery is situated on the northern side of the Indus River valley at an altitude of 3,500 meters (11,500 ft).
The monastery was founded by followers of the Bön religion. However, it became a major scholarly center for Vajrayana Buddhist practice and scholarship by the 11th century. It continued as a religious center until the 14th century, after which its influence declined. In 1994, Alchi along with nearby Likir Monastery was listed in UNESCO's World Heritage Sites.
49. Indus River Rafting and Skiing
Indus River Rafting
The Indus River, a major river of Asia that rises in Tibet and flows through India to Pakistan, is a scenic wonder. Its pristine beauty has been a favorite spot for various adventure sports events ever since its discovery by humans many centuries ago. For some adventurous souls, the Indus River Rafting in Ladakh is one of the most exciting river rafting trips they have ever had.
The Indus flows through this gorge at rapid speeds, creating strong eddy currents which makes it difficult for even experienced kayakers to get complete control over their kayaks. The waters flow through the gorge before entering their biggest and last set of rapids known as Lotus Rapid, considered to be among the most difficult and dangerous rapids in rafting history.
Lotus Rapid is named after a lotus-shaped rock that sits right in the center of the rapid, creating a whirlpool that pulls the rafts into its center. A large number of kayakers have gone missing in this rapid, with most of their bodies not being found even after the heavy commercial rafting season was over.
Lotus Rapid is preceded by another legendary rapid called Point Five, which is considered to be one of the toughest rapids ever encountered on the river. It has turned out to be one of the most dreaded points in the rapid. It has been observed that when kayakers reach Point five, their skills are tested beyond limits.
The best time to engage in Indus River Rafting in Ladakh is during the months of May and June when snowmelt from the mountains turns the river into a rapid-strewn torrent.
Skiing in Ladakh
Ladakh has been a growing tourist highlight in the otherwise barren land. The ices and glaciers of the world's highest mountains feeding the rivers have made this possible. Khardung La pass is an excellent location to ski for tourists from all over the world. The road here remains closed during the winter months due to heavy snowfall. It opens in the second half of March every year, inviting many skiers.
Out of the list of the Best Things To Do in Ladakh, you can pick and choose which ones you want to cover depending on your preferences and how much time you have available on hand. We'd recommend doing all of them!
Read more: Luxembourg: 26 Things to do in Europe's Beautiful Small Country
---
Note: The hours of operation, ticket prices, and admission criteria of museums, parks, etc. may change from time to time. For the most updated information, we recommend checking the official website of the attraction directly prior to your planned visit.
Blog Categories: Asia, Africa, Europe, USA, Australia & New Zealand, France, Germany, India, Italy, Spain, Sports, Switzerland, Travel Tips, UK, Products, Uncategorized
Fresh From The Blog
---